15 dead,160 injured in explosion at a Texas plant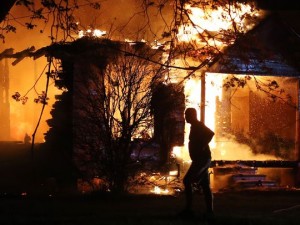 WEST, Texas — Emergency teams went house-to-house through mounds of debris in a devastated four-block area of West, Texas, on Thursday in hopes of finding survivors of an earthquake-like blast at a fertilizer plant that sent a ball of fire and burning embers into nearby homes, killing as many as 15 people and injuring more than 160, police said.
The Wednesday evening blast, which rocked the ground with the force of a magnitude-2.1 earthquake, could be felt as far as 45 miles away.
Officials said there was no initial indication that the blast was anything but an industrial accident, although agents from the federal Bureau of Alcohol, Tobacco, Firearms and Explosives were on the scene investigating the explosion.
Waco police Sgt. William Patrick Swanton said initial reports indicated that the fire and blast may have involved a railroad tanker carrying anhydrous ammonia, an odorless gas that is used in making fertilizer.
Swanton said casualty figures were still preliminary, but that as many as 15 people were believed dead and more than 160 were injured by the explosion that rocked the countryside around this north-central Texas town 80 miles south of Dallas.
Swanton said three to five firefighters were still unaccounted for, but that one missing responder had been located in a local hospital with "serious injuries."
"We risk our lives everyday, those firefighters knew what they were going into," Swanton said. "They went in there to save lives, and that's what they did. A few of them lost their lives in doing so."
Local EMS director George Smith confirmed that two paramedics were among the fatalities.
As a storm front moved through the area Thursday morning, teams were carefully sifting through the charred remains of the explosion for survivors, looking under beds, inside collapsed closets, and rummaging through charred debris for any sign of life.
Swanton said that it was a good sign that emergency teams were still in a "search and rescue" mode because it indicated that they still hoped to find more survivors.
"A lot of tedious, meticulous searching," he said. "They want to make sure they don't miss anyone."
Texas Gov. Rick Perry called the devastating explosion "truly a nightmare scenario" for the small farming community. He declared a state of emergency for the county and dispatched National Guard troops for assistance.
The governor also said that President Obama called him from Air Force One en route to Boston to offer federal assistance.
West Mayor Tommy Muska told reporters that his town of 2,800 people needs "your prayers."
Officials said it did not appear that the town was threatened by chemical fumes from the plant, which was still smoldering hours after the explosion.
Emergency teams had responded to a fire call at the plant at 7:29 p.m. CT. The explosion erupted 24 minutes later, as the firefighters, police and paramedics were battling the blaze and attempting to evacuate nearby residents.
"They were responding to the scene and were actively fighting the fire at the time the explosion occurred," Swanton said.
First responders to the West Rest Haven Nursing home, which was heavily damaged, removed
133 residents, many in wheelchairs.
In one video, posted on YouTube, a young girl, Khloey Hurtt, is taping the fire from about 300 yards away while sitting in a truck with her father, Derrick. The force of the blast knocks them both backward.
In the video, Khloey can be heard pleading with her father, "Please get out of here, please get out of here, Dad, please get out of here. I can't hear anything."
Derrick Hurtt later told NBC's Today show, "I'm pretty sure it lifted the truck off the ground. It just blew me over on top of her. It all happened so quick that things just kind of went black for a moment."
"The injuries that we are seeing are very serious," said Glenn Robinson, CEO of Hillcrest Baptist Medical Center. "There are a number of patients that will be going to surgery. … It's a very, very unfortunate situation."
Robinson said that 10 or 12 of the injured were in critical condition. Two people were in surgery as he spoke and two more were awaiting surgery, he said.
Robinson said an unknown number of people with minor injuries were being treated at a triage center set up by emergency medical personnel at a high school football field.
Swanton, who was one of the first officers on the scene, said the chaos and devastation was staggering.
"I've been policing for 32 years and seen some pretty rough stuff in that time," he said. "I've never seen anything of this magnitude."
The blast and ball of fire reduced a middle school to rubble and seriously damaged least 50 houses. A 50-unit apartment building looked like a "skeleton," according to one state trooper. Some structures as far away as a half-mile were destroyed.
Julie Zahirniako said she and her son, Anthony, had been playing at a school playground near the fertilizer plant when the explosion occurred. She was walking the track, he was kicking a football.
The blast threw her son 4 feet in the air, breaking his ribs. She said she saw people running from the nursing home and the roof of the school lifted into the sky.
"Hit the ground, hit the ground," Zahirniako heard a neighbor yell.
"The fire was so high," she said. "It was just as loud as it could be. The ground and everything was shaking."
Texas Trooper D.L. Wilson said the damage was comparable to the destruction caused by the 1995 bomb blast that destroyed the Murrah Federal Building in Oklahoma City.
Muska, who is a firefighter as well as mayor, urged residents to stay indoors as protection from the possibility of chemical fumes in the area.
Wilson said half the town had been evacuated due to damage or the threat posed by the fumes.
"When that north wind changes, we might have to evacuate the other side of town," Wilson said.
There were no immediate details on the number of people who work at the plant, which was cited by the Texas Commission on Environmental Quality in 2006 for failing to obtain or to qualify for a permit, the Associated Press reported. The agency acted after receiving a complaint in June of that year of a strong ammonia smell.
In 2001, an explosion at a chemical plant killed 31 people and injured more than 2,000 in Toulouse, France. The blast occurred in a hangar containing 300 tons of ammonium nitrate, which can be used for both fertilizer and explosives. The explosion came 10 days after the Sept. 11, 2001, terrorist attacks in the U.S., and raised fears at the time it was linked. A 2006 report blamed the blast on negligence.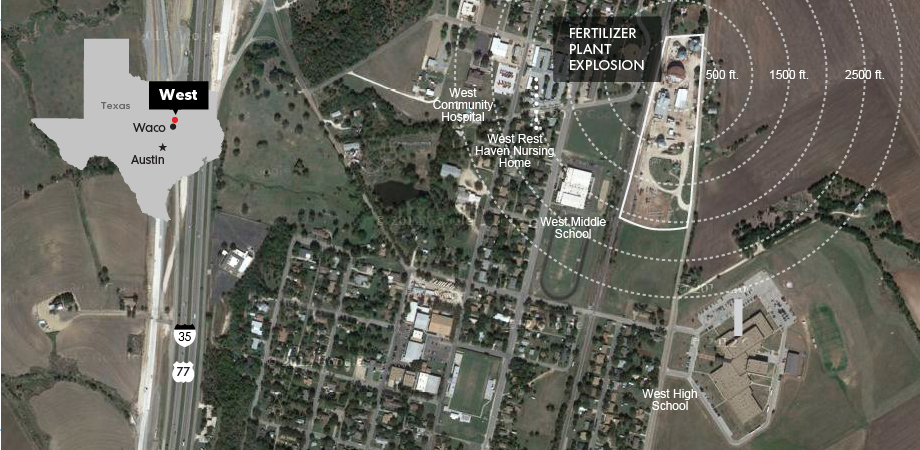 USA Today