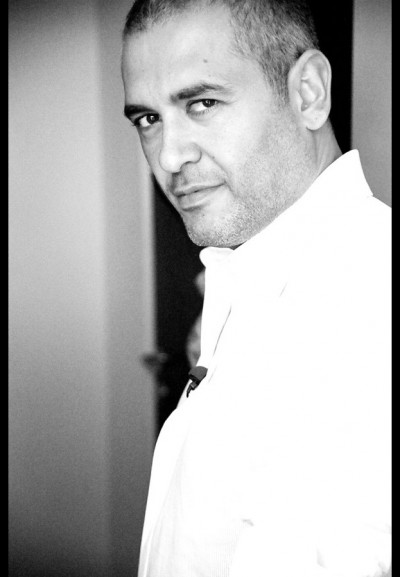 By Mike MacEacheran
Elie Saab is a difficult man to please. The Lebanese superstar has become the most successful Arab-speaking designer in history, he has built a fashion empire from his haute couture and ready-to-wear collections and A-list stars across the globe queue up on the red carpet to showcase his designs when awards season is in full swing – but still he is not happy.
That's because he believes there is always something more to do. Saab, 48, has become one of the hottest fashion designers in the world and has launched a successful eau de toilette perfume, but now he wants to move into yacht design. He's keen to spend more time with his family in Geneva but is constantly on the hop between his boutiques and ateliers in Beirut and Paris.
Rather selfishly, he says, he's driven by a desire to do better. Following the unveiling of his most recent spring/summer collection in Paris, he took time out to talk about why he is so hard on himself.
You started sewing as a child. What kinds of things did you make?
I was born with a passion to create, to make things beautiful. Considering that I was surrounded by beautiful women – my sisters and my neighbours – I remember feeling a great desire to make them feel elegant and more feminine. That's where it started. The first piece I designed was for my sister – it was a striped dress.
What was it like growing up during Lebanon's civil war?
I think we are all the result of our culture and heritage and Beirut is a great source of inspiration for me. The city was repeatedly destroyed throughout the years but still manages to be a rival to some of the most beautiful capitals in Europe.
It still amazes me and shows me the importance of tenacity. I think Beirut has given me the determination to always do my best. And having lived in Beirut, it became an inspiration for my designs – you can see it in my choice of fabrics and the warm colours that I often use, such as sand and natural shades.
You moved to Paris straight after you left school. What was that like as a 17-year-old?
I have very good memories of the City of Lights and knew immediately that I would come back to Paris later in life. It's the fashion capital of the world so I knew that I had to return to present my collections. From the beginning, I had the intention to become internationally recognised and I worked hard in Paris to get on the right track.
Why did you return to Beirut after only a year?
Call it an inner feeling but I was convinced that I could make it by opening my own atelier in Beirut. I worked hard to get to where I was at the age of 18 – and getting to that point was not easy, I can tell you.
A certain amount of talent was required, of course, but more than that it was hard work, years of hard labour during which I had to teach myself most of the business while at the same time constantly producing new collections.
Looking back at the Academy Awards in 2002 when you dressed Halle Berry in that floral burgundy gown, it seemed like a watershed moment for you. To what extent do you think it helped your career?
Actually, that was not the first time she had worn one of my designs but it was certainly huge exposure for the brand. I was happy and proud to see her in my gown at the Oscars – she looked beautiful and the dress generated lots of publicity. It was a special moment for the Elie Saab brand and, I assume, for her.
What's the most important piece of fashion advice you'd give to women in the Middle East?
There is no perfect look. A dress should reflect a woman's mood and personality. You can always tell if a woman is confident about her dress by the way she wears it. The only advice I could give is not to go too far with the sophistication – sometimes less is more.
What's the biggest challenge you face working in the fashion industry today?
The challenge lies within me – it's not one that the industry has -created. I'm very hard on myself and I always feel the need to do more, to do better. Of course, I feel the pressure to maintain a high level of success – especially in an industry that thrives on high levels of competition – but for me, it's about being hard on myself.
Following your move into perfumes, you've also taken a sidestep into car interiors and yacht design. What drew you to that?
I think it's important to extend your creativity, so I'm always ready to explore new areas, subject to being able to bring in a new vision. When I get a proposal for a collaboration, I first study it carefully to determine if it's in line with my vision. It's all part of the evolution of the brand.
You're so involved in so many different projects. Do you even have a family life?
I can't deny that my work takes a lot of my time, but I am always surrounded by my family during catwalk shows or important occasions and I make sure to spend as much quality time with them as possible.
You're one of the richest, most powerful businessmen in the region. Has that changed you as a person?
I don't like the term 'power', per se. Power for me is the respect you have for yourself and for others and the esteem you get from people about your work. This satisfaction gives you all the 'power' you need to grow and move forward.
Elie Saab on being the godfather of red-carpet fashion
When Sandra Bullock walked down the red carpet at the Oscars in late February in a black-lace embroidered gown, fashion commentators and bloggers knew that there could only be one man behind the dress: Elie Saab.
The red carpet has become his calling card and, in the film and music awards season that has just passed, dozens of celebrities have been photographed in Saab couture and ready-to-wear, including Nicole Kidman, Sarah Jessica Parker, Jessica Alba, Hilary Swank, Taylor Swift, Amy Adams and Amanda Seyfried. It's an exhaustive list and stands as a testament to Saab's keen eye for elegance and glamour.
Why has dressing celebrities become so important to him?
"I have always considered red carpets to be one of the best catwalks – women can picture themselves more easily in a dress worn by a celebrity rather than a model," says Saab. "I really believe that the red carpet is the best podium for any designer, so we look to celebrities who represent femininity – in all shapes and sizes. Doing this gives me great satisfaction."
It's not only celebrities who are devoted fans of Elie Saab's gowns. He's also dressed Queen Rania of Jordan, Victoria, the crown princess of Sweden, Beatrice, Princess of York and Marie-Chantal Claire, the crown princess of Greece, to name a few of his royal fans. It is, he says, one of the brand's main points of differentiation: "I believe it's about my vision of women and how I see femininity. I present what women need, with the appropriate embellishment, of course. My style is a combination of elegance and glamour, the right cut and feminine details."
Coming from the son of a Lebanese wood merchant, it's probably not what his father would have expected.
The National