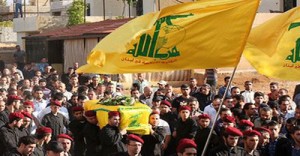 The funeral of four more Hezbollah members that were killed in Syria took place in Lebanon's Nabatiyeh on Tuesday, Now reported , adding that the bodies of more fighters were being prepared for burial.
The burial ceremony was accompanied by Resistance chants and heavy gunfire, NOW added.
NOW also reported that a large number of corpses of Hezbollah militants who died in combat in Syria are at the Sheikh Ragheb Harb Hospital Nabatiyeh's Jeb Sheet and that the Shiite group is burying them in installments in order not to draw attention to the growing phenomenon of Hezbollah deaths in Syria.
NOW quoted the victims' relatives as saying that some of the Hezbollah fighters killed in Syria were shot in the back of their head, implying that Syrian army troops who were unable to defect might have killed them.
Hezbollah has been reportedly fighting on the side of the Syrian regime against rebels in the Homs province and outside Damascus.
Earlier Wednesday, rebels told Al-Arabiya that around 700 militants affiliated with Hezbollah deployed in the Syrian town of Al-Nazariyeh near Al-Qusayr in Homs province.
The opposition Syrian National Coalition on Tuesday called on Lebanon to control its frontiers, after rebels said they fired across the border in retaliation against Hezbollah.
NOW