At least 27 people died when a building collapsed in India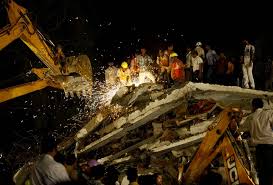 A building that was being constructed illegally in a Mumbai, India, suburb has collapsed, and at least 27 people have died.
Police Inspector Digamber Jangale said 54 people were injured in the collapse Thursday evening in the Mumbai suburb of Thane. Rescuers were searching for more casualties in the debris early Friday.
He said the building did not have clearances from local authorities to be built. The first four floors had residences and offices that were occupied at the time of the collapse.
Workers also were adding four more floors and had finished three before the building fell.
Why it collapsed was not yet known.
CBS