Syrian helicopter and jet fire rockets 'inside Lebanon'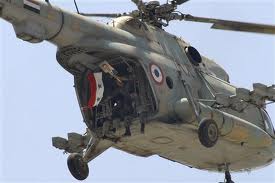 A Syrian helicopter has crossed into Lebanon and fired two rockets near a town home to thousands of Syrian refugees, reports say.
No casualties or damage were reported after the incident on the outskirts of Arsal, which is close to Syria.
Syrian forces have previously fired mortars across the border and crossed into Lebanon to attack rebels.
Lebanon's president described an air attack last month as an unacceptable violation of Lebanese sovereignty.
The latest incident has further raised tension in an area where the divisive effect of the Syrian conflict has already been deeply felt, the BBC's Jim Muir reports from Beirut.
The UN estimates that at least 70,000 people have been killed in Syria since the uprising against President Bashar al-Assad began, just over two years ago.
Opposition activists say more than 6,000 people died in March alone which, if confirmed, would make it the deadliest month of the conflict.
'Helicopter and jet'
"A helicopter fired two rockets on Jubaneh al-Shmis on the outskirts of Arsal," a Lebanese security official told AFP news agency on condition of anonymity.
"The area lies several hundred metres [yards] away from a Lebanese army checkpoint."
Ahmad Fliti, deputy mayor of Arsal, told AFP that two rockets had fallen in a residential area but nobody had been hurt.
Witnesses quoted by Reuters news agency spoke of seeing both a helicopter and a jet, and said a rocket from the jet had hit a field.
Arsal, situated in an area where cross-border smuggling has long been a way of life, is largely sympathetic to the rebel cause, our correspondent reports.
Much of the surrounding area of the Lebanese Bekaa valley is largely populated by Shia Muslims whose biggest organisation, Hezbollah, backs the Syrian government.
Hezbollah fighters are also reported to have been active across the border, supporting Shia villages inside Syria against the mainly Sunni Muslim rebels, our correspondent adds.
In the March incident condemned by Lebanese President Michel Suleiman, Syrian aircraft reportedly fired four missiles at Syrian rebels inside Lebanon but nobody was hurt.
BBC