A Syrian warplane flew into Lebanon and fired a missile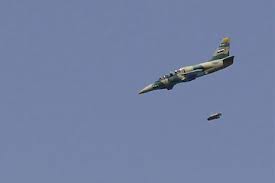 A Syrian jet flew 20 km (12 miles) into Lebanon and fired a missile into a field on the outskirts of the border town of Arsal on Wednesday but caused no casualties, witnesses said.
Lebanon has maintained a policy of "dissociation" from Syria's two-year-old conflict. But many Lebanese officials feel their country is increasingly at risk of being dragged into the civil war, which the United Nations says has killed 70,000 people.
Syrian forces loyal to President Bashar al-Assad have fired mortars into and occasionally entered Lebanese territory in pursuit of rebels. They threatened to carry out air strikes in Lebanon last month.
When a Syrian plane bombed Lebanese territory in mid-March, Lebanese President Michel Suleiman called it an "unacceptable violation" of Lebanese sovereignty.
It was not immediately clear what the Syrian jet on Wednesday was targeting. Local residents said a Syrian army helicopter was also hovering near Arsal, in Lebanese airspace, at the time.
Before dawn on Wednesday, Lebanese gunmen who back the uprising against Assad in Syria fired on a convoy of trucks heading to Syria in the port city of Tripoli, wounding the driver, a security source said.
It was the latest in a string of attacks by anti-Assad Lebanese groups on supplies entering Syria from Lebanon, which had its own civil war from 1975 to 1990.
Reuters