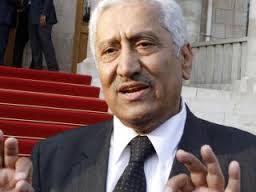 Prime Minister Abdullah Ensour and his Cabinet were sworn in Saturday before His Majesty King Abdullah, becoming the 77th government in the country's history and the 13th since the King ascended the Throne.
Besides Ensour, the Cabinet consists of 18 ministers.
Four ministers only kept their portfolios from the outgoing government that include Foreign Minister Nasser Judeh, Minister of Industry and Trade and Minister of Information and Communications Technology Hatem Halawani, Minister of Public Sector Development Khleif Al Khawaldeh and Labour Minister Nidal Qatamin, who is in addition to his post was tasked with the portfolio of Transport Ministry.
The new Cabinet includes the names of 9 newcomers who never served as ministers, while five others have served as ministers in previous governments.
Among the newcomers are Public Security Department Director Hussein Majali who was tipped to become interior minister, economist and researcher Ibrahim Saif for the planning ministry and women's rights activist Reem Abu Hassan as minister of social development, who is the only woman in the new government.
Cabinet list
Following is a list of Prime Minister Abdullah Ensour's Cabinet members:
Abdullah Ensour: Prime Minister and Minister of Defence
Amin Mahmoud: Minister of Higher Education and Scientific Research
Nasser Judeh: Minister of Foreign Affairs and Expatriate Affairs
Hussein Majali: Minister of Interior and Minister of Municipal Affairs
Mohammad Wahsh: Minister of Education
Hatem Halawani: Minister of Industry and Trade and Supply and Minister of Information and Communications Technology
Hazem Nasser: Minister of Water and Irrigation and Minister of Agriculture
Umayya Toukan: Minister of Finance
Khleef Al Khawaldeh: Minister of Public Sector Development
Mohammad Qudah: Minister of Awqaf and Islamic Affairs
Nidal Katamine: Minister of Labour and Minister of Transport
Ahmad Ziadat: Minister of Justice and Minister of State for Prime Ministry Affairs
Walid Masri: Minister of Public Works and Housing
Ibrahim Saif: Minister of Planning and International Cooperation and Minister of Tourism and Antiquities
Mohammad Momani: Minister of State for Media Affairs and Communications and Minister of Political Development and Parliamentary Affairs
Reem Abu Hassan: Minister of Social Development
Mujalli Mhailan: Minister of Health and Minister of Environment
Malek Kabariti: Minister of Energy and Mineral Resources
Barakat Awajan: Minister of Culture
Al Bawaba