Germany wants Hezbollah on EU terrorist group list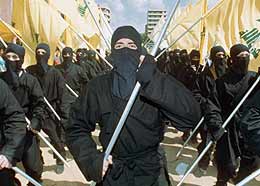 The German Interior and Foreign ministries want Lebanon's Hezbollah movement to be placed on the EU's list of terrorist groups if suspicions are confirmed that the organization was behind the bus bombing in Bulgaria last year in which five Israeli tourists were killed, according to a report by the Der Spiegel Magazine.
If it's confirmed that Hezbollah was implicated in the bombing of a bus in Bulgaria last year in which five Israeli tourists were killed, there would be a strong case for adding Hezbollah to the list, a spokesman for German Interior Minister Hans-Peter Friedrich was quoted as saying . The German Foreign Ministry reportedly takes a similar view.
A Cypriot court convicted a Hezbollah member Hossam Yakoub for planning a similar attack. On Thursday, the court sentenced him to four years in jail on charges of plotting to attack Israeli citizens on the island.
According to his written confession, Yakoub has been a Hezbollah member for four years.
Two EU countries currently label Hezbollah a terrorist organization—the UK and the Netherlands. The UK blacklists only Hezbollah's military wing .
However, France has been opposed to a EU-wide ban of Hezbollah because several ministers in the Lebanese government that collapsed on March 22 belonged to the movement.
Blacklisting the organization could allow regional authorities to clamp down on financial flows to the group and open the way for freezing assets linked to Hezbollah in Europe.