Charbel: New Lebanon cabinet must be formed quickly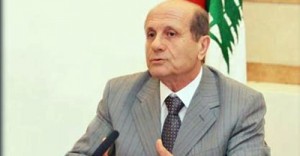 Lebanon caretaker Minister of Interior Marwan Charbel called for formation of a new government as soon as possible , warning that the deadly unrest in the northern city of Tripoli is "very dangerous" and that the entire country is in danger.
"It is the right of the citizen to ask about the measures taken by the Lebanese state concerning the situation in Tripoli, and the state does not only mean the government, but also the administrative and security institutions," Charbel said at a press conference he held after a security meeting at Tripoli's serail.
"What prompted me to come to Tripoli is to reassure the citizens that I will carry on with all my duties until the last moment," Charbel said
He warned that "some people from outside this city want to create problems in Lebanon." he said
"What's happening in Tripoli is very dangerous and it has regional connections and I hope it won't drag international involvement," Charbel added.
He called on Speaker Nabih Berri to "convene the parliament and urge the MPs to "sign a charter titled 'Security in Lebanon, especially in Tripoli.'"
The caretaker minister condemned "the provocative religious rhetoric."
"I hope religious leaders will help us, because what's happening in Lebanon is unprecedented and did not happen during the days of civil war," said Charbel, referring to security chaos.
"We must form a consensual government as soon as possible because Lebanon is in danger and Tripoli is bleeding," Charbel added.
In an interview with Radio Voice of Lebanon (100.5) earlier on Saturday, Charbel however stressed that the security situation in Tripoli is under control, reassuring that there will be no security vacuum in the country.
Charbel's remarks came a day after Mikati announced the resignation of his government on Friday in Beirut, after Hezbollah and its allies blocked the creation of a body to supervise parliamentary elections and refused to extend the term of the country's police chief, who will retire on April 1.
Earlier on Saturday, President Michel Suleiman accepted Mikati's resignation and requested him to continue in his role at the head of a caretaker government until a new one is formed.
Now Lebanon reported that 3 people were killed on Saturday in Tripoli