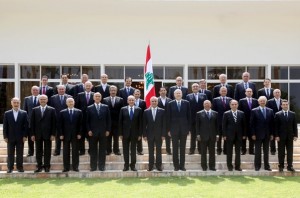 LBC reported that the resignation of Lebanon Prime Minister Nagib Mikati 's cabinet is imminent after what happened today during the cabinet session.
Mikati is expected to announce his resignation in a televised address at 7:30 PM local time according to the report.
Mikati is currently meeting with his top advisors at the Grand Serail .
This development comes after a cabinet session convened on Friday at the Baabda Presidential Palace under the chairmanship of President Michel Suleiman to discuss the issue of the formation of an Elections Supervisory Committee and the extension of the term of the Internal Security Forces' leadership.
Sources told LBCI that the session kicked off with the appointment of Brig. Gen. Mohammad Kheir as Secretary General of the military council.
However, PM Mikati said that he will decide his position regarding the cabinet's resignation based on the course of the session.
Prior to the session, Suleiman met with Mikati who arrived to Baabda accompanied by Health Minister Ali Hassan Khalil, who in turn declared that the item pertaining to the extension of the mandate of ISF chief Ashraf Rifi will not be included in the session's agenda, stressing that it is the PM's call whether or not to discuss it.
For his part, Labor Minister Salim Jreissati declared that the Change and Reform bloc rejects the extension of ISF Director General Ashraf Rifi's mandate, the formation of an Elections Supervisory Committee and the cabinet's resignation.
But Interior Minister Marwan Charbel stressed that he will defend his stance pertaining to the need to extend Rifi's mandate at least until the month of September .
However, Minister of State Ali Qanso explained that extending Rifi's mandate requires passing a decree
In this context, Social Affairs Minister Wael Abou Faour declared that Mikati is insisting on his position in favor of the extension of Rifi's term, noting that the cabinet is standing at "a dangerous crossroads."
For his part, Minister of State Ahmad Karami said: "Goodbye cabinet if Rifi's term were not extended today."
At the end of the cabinet session Abou Faour told reporters that his bloc , which is headed by MP Walid Jumblatt will continue to supports Mikati and Suleiman 's stance whatever that may be .
LBC
Update 7: 50 pm : Hezbollah's Al Manar TV reported that Mikati decided to pospone his 7:30 TV announcement indefinitely. No other details were made available but according to observers, Mikati may have received a call from Hezbollah chief Sayyed Hassan Nasrallah that may have convinced him not to resign at this point .
Al Manar was the only TV station that reported on this issue so far
Update 7:55 pm There are conflicting reports about Mikati's imminent resignation MTV reported
Update 7:56 pm: Acting Information Minister Abou Faour has just arrived at the Serail, probably to inform the media the latest on Mikati's imminent resignation.
Update 7:59pm: Minister Ghazi Aridi has also just arrived at the Serail reportedly to try and save the cabinet. But LBC reported that all its sources have indicated that Mikati intends to resign .
Update 8:03pm: Mikati will address reporters shortly
Update 8:8 pm Al Nahar quoted deputy PM Samir Muqbil as doubting the PM will resign.
Update 8:10 pm: LBC reported that if Mikati resigns today , the resignation will not be official and will be subject to approval by president Mchel Suleiman who may ask him to stay on caretaker basis until a new cabinet is formed .
Update 8:18 pm: NNA reported that PM Mikati will announce his resignation shortly during a TV address to the nation
Update 8:25 pm : Mikati notified the March 8 alliance that he intends to resign and was told that they have no objection against him taking such a step, according to a report by New TV.
Update 8:30 pm : Voice of Lebanon reported that Mikati has received several calls from Lebanese leaders to try and convince him not to resign.
Update 8:36 pm: Mikati started addressing the media at the grand Serail by joking: "I know you have been waiting for this moment for a long time "
He said that after the term of Rifi expires the security in the country could suffer greatly and for this reason he wants him to stay.
He added : I feel compelled to take this position and allow flor dialoge and formation of a new cabinet to supervise the elections.
He said that twice he intended to resign . once because of the funding of the special tribunal for lebanon and the other when Wissam Hassan was assassinated