Obama: Palestinians 'deserve a state of their own'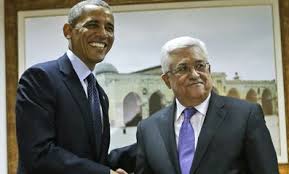 President Barack Obama spoke critically of Israeli settlement activity in Palestinian territories and reaffirmed his commitment to the creation of "an independent and sovereign state of Palestine" in a Thursday news conference in the West Bank.
"We cannot give up on the search for peace, no matter how hard it is. … Too much is at stake," the president said during the joint news conference with Palestinian Authority President Mahmoud Abbas on the second day of his first official trip to Israel.
Obama reaffirmed the "difficult" goal of a two-state solution, adding that Israel's program of settlements was unhelpful and did not "advance the cause of peace."
When asked whether he thought a halt to further settlement activity was required before peace talks could begin in earnest, Obama demurred.
"If the only way to even begin the conversation is that we get everything right from the outset … then we're never going to get to the broader issue, which is how you actually structure a state of Palestine that is sovereign and contiguous," the president said.
"The core issue right now is how do we get sovereignty for the Palestinian people and ensure security for the Israeli people," he added. "If we solve those two problems, the settlement problem will be solved."
"The core issue right now is how do we get sovereignty for the Palestinian people and ensure security for the Israeli people," President Obama added. "If we solve those two problems, the settlement problem will be solved."
Obama said that had been the focus of the talks he had just conducted with Abbas, which lasted about an hour and occurred just before the news conference, during which Obama praised Abbas for his leadership and sharply criticized rival group Hamas for the "misery" of Palestinians in Gaza.
He sounded hopeful about Abbas and the Palestinian Authority and reiterated U.S. willingness to help.
"The United States is deeply committed to the creation of an independent and sovereign state of Palestine," he said, adding, "Simply, Palestinians deserve a state of their own."
For his part, Abbas said he had "renewed confidence" in U.S. assistance with the peace process after meeting with Obama.
"We have conducted a good and useful round of talks," he said through an interpreter.
In calling for an end to Israeli construction of settlements in Palestinian territories, Abbas warned that continued building of the sites was causing Palestinians, particularly the younger generation, to lose hope that Israel and a sovereign Palestine could peacefully co-exist.
When young Palestinians see the settlements, he said, "they do not trust the two-state solution anymore, and this is very dangerous" for the future.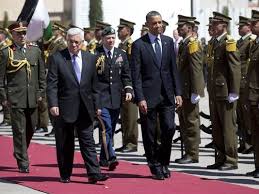 Earlier, Obama had been greeted cordially by Abbas, and the two hugged, after his helicopter touched down in Ramallah.
Despite the discussions and positive speeches, little actual progress on the peace process was expected during the trip.
On Tuesday in Ramallah, Palestinian police scuffled with scores of demonstrators protesting Obama's visit, and two rockets that may have been a show of protest were fired into southern Israel close to the border with the Hamas-controlled Gaza Strip early Thursday.
Obama began the second day of his trip with some virtual time travel.
After viewing the ancient Dead Sea Scrolls, Obama toured a technology exhibition at the Israel Museum to have a look at cutting-edge products being developed in the country, including a potentially revolutionary battery that uses air and water to release energy stored in aluminum.
The makers say it could power a car that would have to stop only for occasional water fill-ups.
Obama seemed to show great interest in the battery, as well as some of the other new technologies on display, and despite the tensions surrounding his visit, he managed to interject a bit of humor.
He watched intently as a robot nicknamed "the snake" — developed at Israel's prestigious Technion institute to help rescue workers reach nooks and crannies where people are trapped — began wriggling on the display table.
"My wife would not like this," he said.
He seemed less interested in some exhibits than others. While viewing the "Mobileye" system designed to warn drivers of imminent roadway dangers, he asked if the system would frequently produce loud beeps as it did in the exhibition hall and speculated that it could be an irritant.
The president appeared eager to move on when asked if he wanted to watch a further demonstration of the device.
"Oh," he said, before politely standing, arms-crossed, and watching a developer operate a driving simulator. The president joked that that the developer was "a bad driver" before strolling off.
NBC