Russia: No clear evidence about Syria chemical attack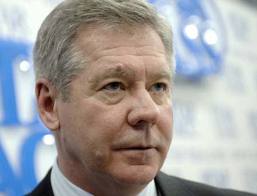 Russia backtracked Wednesday over claims that Syrian rebels had used chemical weapons, saying the information still had to be checked.
The foreign ministry said on Tuesday it had information from Damascus the rebels had used chemical weapons in an attack that day in Aleppo province that Syria claimed killed 16 people.
But Deputy Foreign Minister , Russia's pointman on the Middle East, said there was no clear evidence proving the use of weapons of mass destruction.
"The story concerning the use of chemical weapons in Syria must be meticulously investigated," Gatilov wrote on his Twitter account.
"For now, there is no unequivocal evidence about this."
Russia is viewed as one of Syria's closest allies and has three times blocked UN sanctions against President Bashar al-Assad's regime.
U.S., Russia split over issue
The United States and Russia stood behind their respective allies Tuesday as each side in the Syrian conflict accused the other of launching a devastating chemical attack outside the northern city of Aleppo.
Washington has backed the ouster of Syrian President Bashar Assad, and Moscow has long resisted opposition efforts to topple Assad, its longtime ally.
The chasm between the two world powers was again readily apparent after conflicting accounts emerged about the alleged deployment of chemical weapons.
U.S. officials flatly rejected the official Syrian version that rebels launched a chemically armed rocket , however, Washington did not rule out the possibility that the government may have launched such a strike and tried to blame it on the opposition.
The State Department said it had no indication that the Syrian rebels possessed chemical weapons. The Syrian government, by contrast, is widely believed to hold substantial chemical stockpiles. Damascus has never directly acknowledged possession of chemical weapons.
U.S. authorities suggested that the government allegations were designed to smear the armed opposition and distract attention from official atrocities.
"We've been concerned that the regime, in failing to achieve its military objectives even by the most barbaric conventional means, may get desperate enough to use these weapons," U.S. State Department spokeswoman Victoria Nuland said in Washington.
However, U.S. officials stopped short of endorsing rebel allegations that the Syrian military had unleashed a chemical strike. The issue was being investigated, officials said.
"We are looking carefully at the information as it comes in," White House spokesman Jay Carney told reporters.
Now/ LA Times