Five Syrian shells land in Lebanon despite warning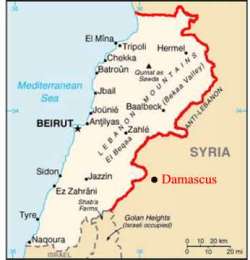 Five shells fired from Syria landed in Lebanon on Wednesday, one day after Lebanese President Michel Suleiman warned that Syrian strikes on its neighbor were an unacceptable violation of its sovereignty.
Witnesses said the shells landed in fields near al-Qasr, a village less than a mile from the border, but no one was hurt.
The Syrian government, battling a two-year-old revolt against four decades of rule by the Assad family, has warned it may strike at Syrian rebels taking refuge across the frontier.
Lebanon, which fought its own civil war from 1975 to 1990, has tried to maintain a policy of "dissociation" from Syria's conflict.
But many citizens fear their country is increasingly at risk of being dragged into the neighboring conflict, in which more than 70,000 people have been killed.
Syria once dominated Lebanon and had troops garrisoned in the Mediterranean country until 2005.
Lebanese politicians are divided over Syria, with some supporting the uprising spearheaded by the majority Sunni Muslim. Lebanon's Shi'ite Hezbollah group backs its supporter, President Bashar al-Assad.
Hebollah-run al-Manar television said that five missiles landed in Lebanon from areas where there are "armed Syrian groups," referring to rebels fighting Assad, indicating that Assad's foes were responsible for the attack.
Syrian forces regularly fire mortar rounds at areas in Lebanon where rebel fighters are thought to take refuge. On Monday, Syrian air force jets fired four rockets at a remote section of the border with Lebanon.
Reuters