U.S.: No evidence of chemical weapons use in Syria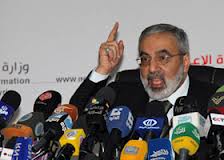 BEIRUT, Lebanon- The Syrian government and rebels accused each other Tuesday of firing a chemical weapon near the northern city of Aleppo, killing at least two dozen people in an attack that, if confirmed, would mark the first use of chemical arms in Syria's two-year conflict.
Syrian Information Minister Omran al-Zoubi said rebels fired "a rocket containing poison gases" at the town of Khan al-Assal, southwest of Aleppo, from a part of the city they control. The state-run Syrian Arab News Agency (SANA) said 25 people were killed and 86 injured in the attack.
Rebels accused forces loyal to President Bashar Assad of firing a Scud missile containing deadly chemicals. The Britain-based Syrian Observatory for Human Rights said 26 people died, including 16 soldiers.
Russia joined its ally, the Assad government, in charging that Syrian rebels had used the chemical weapon, an act it called alarming and dangerous.
But the United States said it had no immediate evidence that a chemical weapons attack took place, although the reported incident was still being studied. If such an attack did occur, White House spokesman Jay Carney said, it was doubtful that the rebels were responsible.
The attack came hours after the Syrian opposition elected Ghassan Hitto, a Syrian-American information technology executive, as the prime minister of an interim government that would administer areas of Syria held by rebel forces. The election at an opposition conference in Istanbul late Monday could lead to closer links between the political opposition outside the country and the fighters and local officials governing rebel-held territory inside Syria.
In Damascus, Zoubi charged that the purported chemical attack was "the first act" by the opposition government.
Photos posted by SANA show a number of alleged victims in hospital beds while medical staff and others gather nearby wearing surgical masks.
U.S. authorities were generally skeptical of the reports, according to a senior State Department official. The official, speaking on condition of anonymity because the reports were only preliminary, said U.S. officials believe the Syrian government has continued to retain control over its chemical weapons supplies.
Opposition activists from Khan al-Assal said in a statement that the Syrian military had attempted to target rebel positions in the area with a missile but had hit a regime-controlled area instead. The statement did not mention whether the missile might have been carrying chemical weapons.
Carney called reports that the Syrian government might have used chemical weapons a "serious concern." He said the Obama administration is evaluating the charges but that the use of such weapons "is and would be totally unacceptable."
Carney said President Barack Obama has warned the Assad government in forceful terms against using chemical weapons in a bid to hang on to power. Carney added that the administration is "deeply skeptical" of government counterclaims that the rebels used chemical weapons because the Assad regime has lost "all credibility."
State Department spokeswoman Victoria Nuland told reporters that "we have no reason to believe these allegations represent anything more than the regime's continued attempts to discredit the legitimate opposition and distract from its own atrocities committed against the Syrian people."
Previous administration statements on the subject leave little room to avoid a U.S. response.
Obama said in a speech in December: "The use of chemical weapons is and would be totally unacceptable. If you make the tragic mistake of using these weapons, there will be consequences, and you will be held accountable."
Hillary Clinton, then secretary of state, said: "This is a red line for the United States. I am not going to telegraph in any specifics what we would do in the event of credible evidence that the Assad regime has resorted to using chemical weapons against their own people. But suffice it to say, we are certainly planning to take action if that eventuality were to occur."
The Reuters news agency reported that one of its photographers visited victims in Aleppo hospitals who were suffering breathing problems and that people said they could smell chlorine after the attack.
Zoubi, the Syrian information minister, said the substance in the rocket that he alleged was fired by rebels "causes unconsciousness, then convulsions, then death." In a televised news conference, he said that "if we had chemical weapons, we would never use them due to moral, humanitarian and political reasons," Reuters reported.
But opposition figures noted that the government has not previously reported that rebels have managed to seize any chemical weapons. Syria is believed to possess nerve agents and mustard gas, as well as Russian-designed Scud missiles capable of delivering them, according to the Associated Press.
The Russian Foreign Ministry blamed the "armed opposition" for the alleged chemical attack, adding: "We are very seriously concerned by the fact that weapons of mass destruction are falling into the hands of the rebels, which further worsens the situation in Syria and elevates the confrontation in the country to a new level."
In Istanbul, Hitto received 35 out of 48 votes at a meeting of the Syrian National Coalition after long talks among the group's members. Hitto left an executive position in Dallas in November to join the ranks of the opposition and subsequently helped co-ordinate the distribution of aid to rebel-held areas from Turkey, according to a bio distributed by the opposition.
At a news conference in Istanbul on Tuesday, Hitto, 50, said his top priorities were to establish the rule of law in rebel-controlled areas and to protect strategic facilities. "We will spare no effort to pave the way for a new Syrian state," he said.
The election of Hitto as interim prime minister was received with optimism by some opposition supporters Tuesday.
"The transitional government is a very important organization to unite all the efforts, inside of Syria and outside," said an activist in Damascus who uses the alias Firas Abdul Hadi.
Hitto has also been praised by some members of the opposition for refusing to talk to officials from the Assad government.
An additional point that could work in Hitto's favour is his Kurdish descent, which could help him win the support of minority groups that have been wary of the opposition, which is led by Sunni Muslims.
Toronto Star
Photo: Syrian Information Minister Omran al-Zoubi said rebels fired "a rocket containing poison gases", but the US said it had no immediate evidence that a chemical weapons attack took place.But if such an attack did occur, White House spokesman Jay Carney said, it was doubtful that the rebels were responsible.