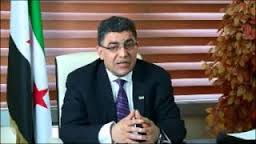 The Syrian opposition's newly elected interim prime minister has ruled out dialogue with President Bashar Assad's regime.
In a speech in Istanbul following his election Tuesday, Ghassan Hitto says "there is no place" for dialogue with the Assad regime.
He also said all members of the regime who have committed crimes will be tried.
Hitto said the interim government will be headquartered in rebel-held territories in northern Syria and urged international recognition.
Associated Press