A Texan elected by opposition as interim PM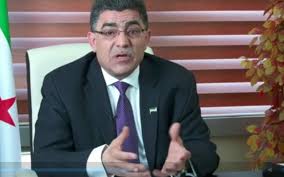 Syria's main opposition group elected a naturalized Texan Tuesday as the first prime minister of its planned interim government, hoping to establish administrative authority in areas of northern Syria that have been secured by insurgents fighting President Bashar al-Assad.
After a prolonged day of maneuvering and voting on Monday that lasted into the early-morning hours, representatives of the opposition coalition, meeting in Istanbul, chose Ghassan Hitto, 50, who emigrated from Syria many years ago and until recently had lived in Wayne , Texas.
In voting televised live by al-Jazeera, Mr. Hitto won 35 votes, three more than his closest competitor, Asaad Mustafa, a former Syrian agriculture minister.
According to his biography, Damascus, Syria-born Hitto received B.S. degrees in computer science and mathematics from Indiana University-Purdue University at Indianapolis in 1989; he received an MBA from Indiana Wesleyan University in 1994.
For 11 years, Hitto worked with Inovar, an electronics firm, which he left in 2012 to move to Turkey to join the opposition to Syrian President Bashar Assad's regime.
Hitto is married to Suzanne Hitto, a schoolteacher; they have four children.
"I give great thanks to the heroes and revolutionaries of the Syrian people," Hitto said after the results were announced. "We are with you."
Hitto sounds like a real community leader, too. He spent more than a decade helping to run a small school for Islamic students, founded the Shaam Relief fund for Syrian refugees in 2011 and worked as a senior executive for a local technology communications firm in Wayne, Texas.
Hitto's spent the last two years starting up relief organizations and raising money for the opposition. His football star son Obaida even left Texas to go and fight on the front lines and was injured by a bomb in the fighting. And inevitably, support for Hitto at the Istanbul meeting was strong to say the least, according to observers.
It ought to be noted that Hitto won support not only from the Islamist factions of the Syrian opposition but from the liberals too. And as for that ex-pat bit, Hitto played down the relevance in a YouTube video. "A lot of the sons of this country had to leave for various reasons," he said. "But Syrian people must carry their homeland in their heart wherever they go."
Hitto is expected to select other ministers in coming days for a government that is not yet physically in place in northern Syria. It was unclear whether all the rebel fighters united in their desire to oust Mr. Assad would recognize the interim government as a legitimate authority.
The concept of a rival government run by the opposition inside Syrian territory has faced a mixed reaction in the United States, which has long demanded that Mr. Assad resign and that an independent transitional government acceptable to all sides replace him, as agreed to in a major conference on Syria in Geneva nine months ago.
While the United States is not yet willing to provide weapons to the insurgency, as France and Britain have said they are prepared to do, Secretary of State John Kerry reiterated on Monday in Washington the Obama administration's position that "that the United States does not stand in the way of other countries that have made a decision to provide arms, whether it's France or Britain or others."
The announcement that Mr. Hitto had won came hours after Syrian warplanes attacked targets inside eastern Lebanon, the first time since the Syria conflict began that the military had used its air force to strike at suspected rebel hide-outs across the Lebanon border. The aerial assault was the third serious border episode tied to the Syria conflict in the past two weeks and underscored the threat to the country's neighbors.
Agencies