Jumblatt : Lebanon disassociation policy gradually fading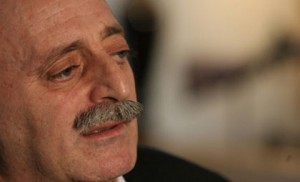 Progressive Socialist Party leader MP Walid Jumblatt called in his weekly article in Al-Anbaa newspaper for rehabilitating Lebanon's self-avowed disassociation policy towards Syria in light of the growing threats from the neighboring country.
"We call for rehabilitation of the policy of disassociation to prevent the consequences of the Syria crisis entering Lebanon and to prevent drowning into internal clashes in Syria because it is not achieving the intended goal and could lead to a deepening of divisions and increased disputes at more than one level," Jumblatt wrote.
Jumblatt, who described the disassociation policy as "fading gradually to the point where it has becomes a theoretical issue only," cited the "escalatory threats by the Syrian regime against Lebanon," as the reason behind his plea, referring to Damascus' recent warning that it would attack Syrian rebels in Lebanon.
In a letter sent to Lebanon's Foreign Ministry Thursday, Damascus said Syrian forces were still exercising self-restraint by not striking "concentrations of armed gangs inside Lebanese territory in order to prevent them from crossing into Syrian territory."
"But this will not last indefinitely," the Syrian letter warned.
Jumblatt's weekly article in al Anbaa was released as Syrian jets bombed Lebanese sites in the east of the country.
The PSP leader, who is a staunch critic of President Bashar Assad, denounced the recent threats.
"With the escalatory threats by the Syrian regime against Lebanon, what is needed, now, more than ever before , is for us to be wary and vigilant not to fall in the trap set by the Syrian regime that wants to turn attention away from what it is carrying out in Syria in terms of massacres," he said.
Jumblatt also accused Iran of seeking to involve Hezbollah, its chief ally in the region, in the conflict in Syria.
"The insistence by the Islamic Republic on turning the rifle of the resistance [Hezbollah] away from its principle purpose of defending Lebanon and confronting Israel and drowning it in a war with the Syrian people comes at a time when Western channels of dialogue have opened with it over the nuclear issue and its regional role," he said.
"[This comes] amid a reluctant American policy toward supporting the Syrian opposition and arming it with what it needs to speed up the lifting of the suffering of the Syrian people and toppling the regime," he added.
Jumblatt also said that despite all the challenges and setbacks, "the Syrian people will be victorious."
"The Syrian people have been let out of the bottle and will not return to it at whatever cost. " He added
DS/agencies