Preventing mass atrocity after Assad
How can mass atrocity in the aftermath of the Assad regime be avoided? Above all, it is Syrians who will need to make sure it does not happen.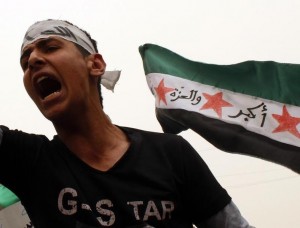 By Daniel Serwer
As the second anniversary of the Syrian uprising approaches, close to 80,000 people have been killed, a million are refugees and several million are displaced. The Syrian army and air force are under severe stress and attacking civilian populations, the revolutionaries are increasingly radicalized in a Sunni Islamist direction and Lebanese Hezbollah as well as Iranian Revolutionary Guards are getting deeply engaged in the fight.
It may seem superfluous to worry about what happens to the Alawite community — the mainstay of Bashar Al Assad's regime – after he falls. But revenge killing is common after an uprising of this sort, and few regimes born in mass atrocity survive as democracies. A massacre of Alawites could be prelude to state collapse, an extremist regime and regional warfare far worse than the spillover we have seen thus far.
How can mass atrocity in the aftermath of the Assad regime be avoided? Above all, it is Syrians who will need to make sure it does not happen. The Syrian Coalition of Revolutionary and Opposition Forces has already made clear that it intends to construct a multi-sectarian, multi-ethnic and democratic regime post-Assad. What needs to be accomplished to achieve that goal?
A lot. Here are just a few of the options that need to be considered:
 A negotiated end to the regime. Atrocities will be far less likely if there is a clear, well-constructed and well-communicated end to the Assad regime, with a roadmap to a future democratic constitution that will respect minority rights. A chaotic collapse of the regime will make mayhem much more likely, including a possible "stay-behind" insurgency like the one in Iraq after the American invasion.
International supervision. The roadmap could be implemented with oversight from a "contact group" that includes the main international powers with influence, including neighbors and regional powers. The big issue here is whether Iran is in or out, which depends on Tehran's attitude toward any negotiated settlement.
An international intervention force. There will be many armed groups in Syria, however the conflict ends. A strong, legitimate international intervention force of both police and military could separate warring parties, establish a safe and secure environment and protect minorities. The big question is: Who would provide these troops and police? Iraq's neighbors have all been parties to the conflict. The Arab League is inexperienced at stabilization and peacekeeping. The United States and Europe are trying to stay out.
New security forces. Assad's army, police, intelligence and other security forces will be thoroughly discredited once the regime is gone. It will be necessary to reconfigure, retrain and reform the security forces so they can reestablish a monopoly on the legitimate use of violence accepted by both former regime elements and rebels. It was the failure to do this effectively that has made a mess of post-Qaddafi Libya. Training of a small Syrian "stabilization" force could begin even now outside Syria, for deployment into liberated areas.
Accountability and justice. It is never possible to punish all those who have supported a dictatorial regime, but victims will be looking for satisfaction. This can initially be offered in a well-articulated plan of action for holding a clearly defined and limited number of senior regime figures accountable for abuses, as well as a broader reconciliation effort to give victims an opportunity to voice grievances and seek eventual redress.
Outreach by the new leaders to communities that have not supported the revolution. Few countries are blessed with a Nelson Mandela, but even lesser figures could try to reassure those who have supported the regime and provide credible guarantees of security. They might even invite in foreign forces to establish a "safe and secure environment" for particular communities at risk.
Basic human needs. Many Syrians are lacking food, water, sanitation and shelter. The country will need a rapid infusion of vital humanitarian assistance that is distributed fairly and transparently by a duly constituted authority.
Quick stabilization of the economy. The Syrian economy will be in free fall. The country will be unable to pay its debts and will need relief from international obligations. It may also need a new currency and a credible central bank. It will certainly need jobs, especially for the many youth already unemployed before the war. They will otherwise find employment with militias unlikely to be sensitive to human rights.
Local community development. Major development projects will have to wait. They will require a well-functioning government and a credible sovereign guarantee to reopen lending by the International Monetary Fund and the World Bank. A well-targeted reconstruction effort that local communities help plan and monitor, like the successful National Solidarity Program in Afghanistan, would be a good start, provide livelihoods and contribute to mitigating the likelihood of violence.
Dispute settlement. As people return to their homes, disputes will break out over property, much of which will be badly damaged and destroyed. It is important to establish a relatively quick administrative procedure for settlement of disputes and recovery of private property, in particular real estate.
Funding for civil society. Syria under Assad lacked the vigorous nongovernmental organizations that provide advocacy, serve as watchdogs and help protect human rights and minorities in open societies. Funding and empowerment of grassroots organizations committed to a democratic outcome and organized across sectarian and ethnic lines, including the revolutionary local administrative councils that have spontaneously appeared in liberated areas, can strengthen social cohesion and prevent violence.
Safe havens for particular minorities. Odious though it may be on other grounds, temporary separation of ethnic and sectarian groups in the immediate aftermath of violent conflict can help to prevent violence and reduce risks to vulnerable minorities. Many Syrian neighborhoods are more or less segregated. It may be best to keep them that way for a time, but to move once trust is re-established in the direction of much more sectarian and ethnic integration.
Syrians will have to decide for themselves what they want to take advantage of, or not, from this laundry list. They may well also discover some new tricks. But the country will be far better off in the long term if Syrians and internationals start thinking now about what to do to prevent the worst from happening after Assad falls.
Reuters