UN: Number of Syrian refugees jumped over 10% in 1 week
A UN official has said the number of registered Syrian refugees has jumped by more than 10% in just one week as part of an escalating exodus.
Last week, the UN refugee agency said the number of Syrian refugees in Jordan, Lebanon, Iraq, Turkey, Egypt and North Africa had reached 1 million.
However, UN refugee agency spokeswoman Reem Alsalem said that 121,000 have registered since then.
She says Syrians are fleeing their country "at a rate faster than anyone anticipated." She says about 2,000 people fled each day in December, compared to 8,000 a day now.
Over one million in Lebanon
President Michel Suleiman said Wednesday that Lebanon could no longer accommodate an influx of Syrian refugees unaided, warning that the number of Syrians in the country has exceeded one million.
"Lebanon is suffering the consequences of the Syrian crisis as it receives thousands of Syrian refugees per day," Suleiman told Arab ambassadors after arriving in Senegal's capital on the first leg of his trip to West Africa.
Suleiman said Lebanon lacked the "physical, human or geographical capabilities to provide the appropriate assistance [to Syrian refugees]."
According to Suleiman, the number of Syrians in Lebanon is now equal to a quarter of the country's population.
"The [total] number has exceeded 1 million and, consequently, [Lebanon] cannot absorb them," Suleiman said, adding that his government needed the international community's help to manage the refugees and the challenges that come with hosting them.
Separately, Prime Minister Najib Mikati also warned that the country had been overwhelmed by the sheer number arriving and in need of shelter.
"We are coming to a very critical point," Mikati told Reuters in an interview Wednesday.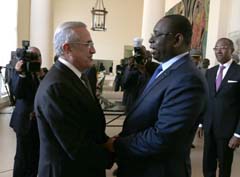 "We need help. Lebanon is bearing the burden of the events in Syria," he said. "We ask Arab countries to look supportively and sympathetically at Lebanon, because Lebanon needs these countries right now."
According to a Lebanese official , the government has only received $87 million from donors: "We had asked for $180 million to cover all the needs of all ministries working with refugees, but we only got half of it."
"Six percent of the amount received was given to UNRWA, the remaining $71 million was distributed among the U.N. sponsored NGOs … Nothing was left for the government," the official told Daily Star
President Sleiman, accompanied by his wife, arrived in Dakar Tuesday night at the head of a 60-member delegation. Well-wishers held posters of Suleiman and Senegalese President Macky Sall as they welcomed the visiting Lebanese delegation into Senegal's largest city. Sleiman's trip will take him to Nigeria, Ghana and the Ivory Coast after concluding his visit in Dakar.
RTE