Syria increases online surveillance amid conflict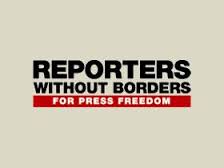 Syria has increased online censorship and cyber-monitoring as country's conflict has been intensified, according to the special study published by Reporters Without Borders entitled "The enemies of the Internet."
When the uprising began on 15 March 2011, Syrian government re-opened access to sites like YouTube, Facebook and Twitter. This openness allowed citizens to mobilise and communicate, but five months later safe versions of those sites were blocked and netizens were forced to use unsafe web pages and disclose their passwords.
Currently, the Syrian Internet network is controlled by the Syrian Computer Society (SCS), founded by Bashar Al-Assad, and the Syrian Telecommunications Establishment (STE). These agencies control 3G infrastructure, web connectivity and fixed connections.
Furthermore, in 2011, the government added new surveillance technologies which scanned the network and compiled data freely accessible for analysis.
On 29 November 2012, authorities approved a new architecture that allows the government to cut off connections between the country and the rest of the world. This ban lasted two days, but according to RWB intentions to filter and monitor the Internet have been on the table since 1999.
RWB obtained a confidential document that reveals STE's intentions to "be the only entity providing internet connectivity." Likewise, the file lists monitoring systems such as recording online and offline activities, copying emails, recording URLs visited and collect posts on forums.
Besides Internet surveillance, Syrian authorities have jailed 22 journalists and 18 netizens last year, and 18 citizens were killed. For instance, Taymour Karim was arrested and tortured by the regime in 2011, after having a Skype call with one of his contacts.
The conversation was monitored by a software the Syrian government sent as spyware to Karim's contact. However, authorities have more surveillance tactics, such as copying sites like Facebook and demand users to enter personal data.
Taking into account that Internet is essential for businesses, research and a big number of professions, protection against malware designed by Syrian government is needed.
RWB recommends users to not install software received by email or from unfamiliar sources, download it just from safe pages (https) and to not use Internet Explorer. "As the most popular browser, it is a major target for hackers. Use Firefox or Chrome instead", says the organisation.
In addition, it encourages netizens to use VPNs to bypass the Syrian network and evade attacks which are born there.
neurope