M14, Jumblatt warn of risks if elections not held on time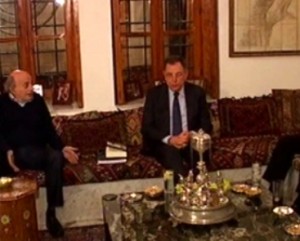 Progressive Socialist Party leader MP Walid Jumblatt said his party was working with the Future Movement on an electoral law that combines the proportional representation and winner-takes-all systems.
In an article to be published in the PSP's weekly Al-Anbaa newspaper Tuesday, Jumblatt warned that a postponement of the elections would be "a leap into the unknown and a step backward."
"If we reach a stage of a caretaker Cabinet, this will put the entire country at risk politically, economically and at the security level," he said.
Former Prime Minister Fouad Siniora and head of the Future Movement parliamentary bloc, also warned failure to hold elections on time would entail "risks" to the country.
"The first issue is holding the elections and the formation of a new Cabinet according to the Constitution. There is a third issue which is the presidential elections," Siniora said in an interview with Al-Jazeera channel. "Failure to hold the elections is a thorny issue that carries with it problems and risks."
Siniora again blasted the Orthodox Gathering's electoral proposal, saying it would cause problems to Lebanon and the region: "It is a reactionary proposal because it calls on sects to elect their own representatives. This contradicts the spirit of the Constitution."
Both the Lebanese Forces and the Phalange Party also called for the elections to be held on time based on a new voting system.
A statement issued after a weekly meeting of the Phalange Party's Political Bureau chaired by former President Amin Gemayel said the current situation required "an electoral law that can gain national consensus and that the elections be held on time."
The parliamentary LF bloc, which met under LF leader Samir Geagea in Maarab, also stressed the need for the elections to be held on time based on a new law.
"The bloc stressed the need to work to reach a new electoral law that can achieve true representation and equality among the Lebanese and gain Lebanese unanimity," said a statement issued after the meeting.