Syrian children in Lebanon use art to raise $60,000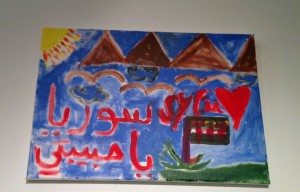 Artwork by young Syrian refugees and international artists fetched more than $60,000 during a March 4th fundraising exhibition in Lebanon organised by the Afak exhibition series.
Proceeds from "Atfal Souriyah" (Children of Syria), held at the Mark Hachem Gallery in Beirut in collaboration with the local chapter of the United Nations Women's Guild and Save the Children, went towards providing the children with health and education services.
The children, aged between 4 and 11 years, had fled to Bar Elias in Lebanon's Bekaa Valley with their families due the on-going conflict in Syria.
They used acrylic paints on cardboard to express their situation — in Syria and now in Lebanon. Some painted scenes of violence in Syria and their hardship while others offered hopeful pictures of hands raising flowers. Other young artists protested against violence in their pictures, calling for peace.
Artists from Lebanon, Iraq, Syria, England, France and Venezuela also contributed paintings to the exhibition.
Artwork from Khaled Abul Hol, Sabban Adam, Shadi Abu Saada, Humam al-Sayed, Zeina Assi, Eddy Choueiri, Hussein Hussein, Rasha Kassir, Frank Santiago, Elizabeth White and others, was sold at silent auction, while the children's paintings were priced between $40 and $100.
"We were quite enthusiastic about the idea of helping Syrian children, because they lost the roofs over their heads and fled to Lebanon with the clothes on their backs, and they live in difficult and harsh conditions," said the gallery's managing director Linda Aboukhater.
The gallery appealed to artists to present some of their work, and was surprised when 20 of them responded "without hesitation", she told Al-Shorfa.
"One artist even sent us a painting from Venezuela, while Elizabeth White, who worked at the British consulate in Syria, presented a collection of photographs that portray life in Syria before and after the outbreak of events," she said.
ARTISTS IN EXILE
While people examined the pictures on display in the exhibition hall, Afak founder Razan Chatti studied the artwork by the children from her home country.
One picture in particular caught her eye. Beneath her painting, 11-year-old Sarah Qattan had written, "I no longer know who my enemy is and where my country is. As I am in exile, will you kill me?"
"This is how the children of my country express the pain and suffering in which they live," Chatti told Al-Shorfa.
Chatti organised the exhibition after visiting the Syrian refugee camps in Bar Elias several times.
"Because I deal with art, I said to myself: Why not ask them to paint so they can understand the value of their art and the money they could raise from it?" she said. "It would also be therapeutic for them."
Around 300 Syrian children were given complete painting kits, and each was allowed to paint in their own style and express their ideas, Chatti said.
The exhibition was successful and achieved its purpose, she said.
"We did not think we would attract so many people who could not wait for the exhibition's official opening and the silent auction," she said. "They came before opening time and snapped up the photographs and paintings they liked."
"Based on what we have managed to accomplish, I would not hesitate to do this again," she said.
INTERNATIONAL ORGANISATIONS ASSIST
"The guild has been helping Syrian refugees in Lebanon for a year and a half by providing clothing, wool blankets and food," the United Nations Women's Guild chairwoman Nemeh al-Bizri, told Al-Shorfa.
The association began working with refugees in the north and then moved down to the Bekaa Valley. It is caring for 600 Syrian children, al-Bizri said, and is helping secure food and clothing for them.
Under the umbrella of Save the Children, the Lebanese Youth Association is working with the children to prepare them for school, she added.
"They have lots of needs, which is why we have to organize many activities to support them and this exhibition is just the beginning," al-Bizri said. "We hope to host a series of activities supported by civil society."
Al Shorfa