U.N. and Syrian rebels reportedly in talks to release troops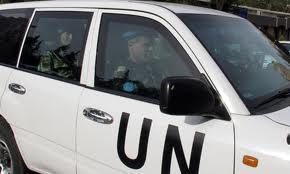 BEIRUT , Lebanon- Negotiations were underway Thursday between the United Nations and rebel forces in an effort to secure the release of 21 U.N. peacekeepers being held in southern Syria near the Golan Heights, a Syrian opposition group said.
The Britain-based Syrian Observatory for Human Rights said it had received word from the rebel battalion responsible for the abduction that insurgents were negotiating with delegates from the U.N. and from the Arab League.
There was no official confirmation of talks from either organization.
The U.N. says a convoy carrying 21 troops from the Disengagement Observer Force was stopped Wednesday and the troops were detained. The peacekeeping force monitors a cease-fire line between Syrian and Israeli forces near the disputed Golan Heights.
The rebels are seeking assurance that Syrian forces will not bombard a nearby town, Jamla, once the peacekeepers are released, the observatory said. The rebels have also demanded that Syrian troops withdraw from the vicinity of Jamla, where heavy clashes were reported over the weekend.
The rebels accused the U.N. of collaborating with the government of Syrian President Bashar Assad. The U.N. says its force is neutral.
Amateur video of six members of the all-Filipino peacekeeping unit are shown inside what appears to be a residence in Jamla.
One of the peacekeepers says in the video that the group stopped during heavy bombardment and some area civilians provided accommodation and food. He made no mention of the peacekeepers being held against their will.
The incident appears to be the most serious to date involving U.N. peacekeepers during Syria's almost two-year civil war.
Victoria Nuland, a U.S. State Department spokeswoman, said Washington had been "conveying extremely strong messages to the Syrian opposition that this is absolutely unacceptable, and we demand their unconditional release…. This is not the appropriate way to deal with difficulties in Syria."
The U.N. Security Council and secretary-general also condemned the abduction and demanded that the detained troops be freed.
The episode is being followed closely in the Philippines. President Benigno Aquino III told reporters that the peacekeepers were in good health and were expected to be released soon.
LA Times