US encourages Bahrain talks to resolve crisis: Kerry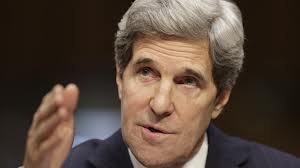 The United States wants the rival parties in Bahrain's political crisis to hold talks on resolving the two-year deadlock in their country, US Secretary of State John Kerry said on Tuesday.
"Progress has been made" in Bahrain, he told reporters in Doha, the last leg of a regional tour. "What I did was encouraging … dialogue (to continue) and to reach a resolution."
Kerry met Bahraini Foreign Minister Khaled Al-Khalifa in Riyadh on Monday.
"He assured me that they are going to continue in good faith and obviously all of us encourage that and look forward to see positive results," said the secretary of state.
A new round of talks between the Shiite-led opposition and the government began last month in Bahrain.
The dialogue was launched against the backdrop of daily Shiite-led protests marking the second anniversary of an uprising against the Sunni monarchy that erupted on February 14, 2011 and has left the kingdom in political deadlock.
Bahrain, home of the US Fifth Fleet, has seen two years of political upheaval linked to opposition demands for a real constitutional monarchy, with the unrest costing at least 80 lives, according to international rights groups.
AFP