Is Hezbollah chief in Iran for cancer treatment ? reports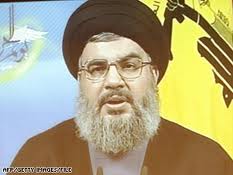 Radio Sawt Beirut International claimed on Monday, citing unidentified sources, that Hezbollah Secretary General Sayyed Hassan Nasrallah was transferred on Sunday to Iran "aboard an Iranian presidential plane," which left from the Beirut-Rafic Hariri International Airport.
Turkish Anadolu news agency also reported on Tuesday that Nasrallah suffered an adverse health condition several days ago and was transferred to a private hospital in Beirut's southern suburb and later to Iran for treatment, .
"Nasrallah left Lebanon to Tehran via Rafik Hariri International Airport," sources close to Hezbollah told Anadolu, without specifying the date of the leader's ailing.
Yesterday also Voice of Lebanon radio station reported that Nasrallah had been flown to Tehran for emergency medical treatment for severe cancer-related complications.
A Jordanian news website reported Monday that Nasrallah may have been injured during the shelling of Hezbollah positions this week by the Free Syrian Army.
According to the reports, Nasrallah's deputy, Naim Kassem, has assumed command of the militant organization.
There were no official confirmation of any of the reports, but Lebanese French daily L'Orient Le Jour reported that Hezbollah denied that Nasrallah, is having health problems.
Update: Hezbollah has officially denied that its leader is sick. Its media office described te reports of his sickness with cancer and of being in Iran for treatment "unfounded" and stressed that he did not go anywhere and is in good health