Al Assir : Lebanon is occupied by Iran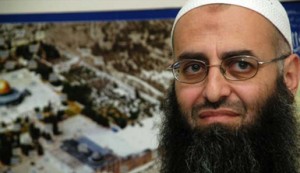 Bilal bin Rabah mosque Imam Sheikh Ahmed al-Assir commented on the request to interrogate him by saying: "Our problem is not linked to the Shiite sect but to the Iranian project . The Iranian project overshadows our country and we will not remain silent" , adding: " Lebanon is occupied by Iran," LBC quoted him as saying on Tuesday
The request to interrogate him has been rejected on a daily basis since Saturday, LBC added.
State Commissioner to the Military Court Judge Saqr Saqr demanded on Saturday the Sidon police to interrogate the Salafist cleric over the possession of arms.
"Assir will be questioned over the arms that were in the possession of his supporters on Friday," LBC said.
Assir said last Saturday following Saqr's demand : "We urge concerned authorities to first put (Speaker Nabih) Berri and (Hezbollah leader Sayyed Hassan) Nasrallah on trial for their crimes".
Assir and his supporters deployed Friday with their weapons around Sidon's Bilal bin Rabah mosque, amid a heavy deployment by the army and security forces.