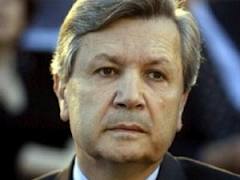 MP Robert Ghanem warned during a press conference on Monday against the adoption of the so-called Orthodox Gathering proposed electoral law stressing it is unconstitutional and would isolate the Lebanese sects. He called for the adoption of an electoral draft-law that guarantees the best representation for all.
He warned that the proposed Orthodox law, which divides Lebanon into a single district and allows each sect to vote for its own representatives under a proportional representation system, would "lead to more sectarianism and divisions."
"How could we isolate Lebanon's factions?" he wondered. "Who would guarantee that we won't hear future demands to elect the president by Christians only and allow Sunnis to choose the prime minister and Shiites the speaker?"
Ghanem who chairs the electoral parliamentary subcommittee which is tasked with deciding on a new electoral law called for the establishment of a senate to give all sects, specially the Christians their rights and said administrative decentralization will consolidate democracy.
Ghanem's press conference came minutes after former MP Elie Ferzli said after a meeting of the Orthodox Gathering in Ashrafiyeh that the proposal is "constitutional and has more positive than negative aspects."
"Our objective is not aimed at creating splits among the factions," he said.
The proposed Orthodox law hass already been rejected by President Michel Suleiman and Prime Minister Najib Mikati. It has also been severely criticized by Hariri's Future Movement bloc, Jumblatt's National Struggle Front and March 14 opposition's independent Christian MPs.