SNC says Hezbollah occupied Syrian villages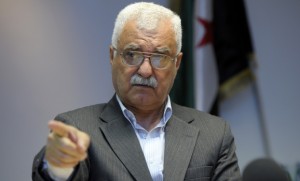 Syrian National Council leader George Sabra met Arab League Secretary-General Nabil al-Arabi in Cairo and raised his concerns over Iran's growing role  in the fighting in Syria and Hezbollah's occupation  of villages on the Lebanon-Syria border .
He urged the  Arab League to adopt a tougher stance against Hezbollah's intervention in Syria's civil war.
This comes after reports  that the  Free Syrian Army accused Hezbollah of occupying six Syrian villages on the Lebanese border. The occupation of the villages, according to an FSA spokesperson, followed clashes between Hezbollah and FSA forces along the border.
The FSA on Thursday lashed out against what it said were Hezbollah hostilities and bombed the group's positions inside Lebanon. Earlier last week, Hezbollah and Syrian rebels clashed on the Lebanon-Syria border, leaving at least 3 Hezbollah fighters  dead.
Hostilities between the rebels  and the Iranian-backed Shi'ite militia continued  on Sunday, as the FSA reported three long-range missiles were fired into Syria from the Hezbollah-controlled areas of Lebanon.
Progressive Socialist Party leader MP Walid Jumblatt said on Sunday that "Hezbollah is fighting inside Syria in support of the Syrian regime on orders from the Islamic Republic of Iran," adding that "the Lebanese government has failed to implement its dissociation policy prompting March 14 parties to fight alongside the people of Syria."
This comes after a US report in the washington Post claimed that Iran and Hezbollah, its Lebanese proxy, are building a network of militias inside Syria to preserve and protect their interests in the event that President Bashar al-Assad's government falls or is forced to retreat from Damascus.
According to the report which was circulated  early February   , the militias are fighting alongside Syrian government forces to keep Assad in power. But officials think Iran's long-term goal is to have reliable operatives in Syria in case the country fractures into ethnic and sectarian enclaves.