Google unveils Chromebook Pixel Touch-Screen Laptop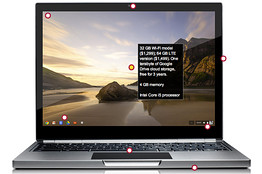 Google Inc. GOOG on Thursday unveiled the first touch-screen laptops powered by its Chrome operating system—the latest foray into hardware development for the company best known for its Internet search and mobile software.
The new high-end Chrome device, which is called the Chromebook Pixel and went on sale Thursday, was designed and built by Google with help from a hardware partner in Taiwan.
The Pixel costs $1,299 for a Wi-Fi-only version and $1,449 for a version that also includes built-in LTE wireless technology so people can use it on the go.
The LTE version will go on sale in April, and Verizon Wireless is selling special wireless plans for Pixel owners.
Prior Chrome devices don't have touch screens and cost as little as $199. The new computers will be sold through the Google Play online store and BestBuy.com, and people can test them in select Best Buy Co. BBY stores in the U.S. and Dixons DXNS.LN PLC's PCWorld stores in the U.K.
The Internet giant has been pushing into hardware design, aided by its newly acquired Motorola Mobility unit, which designs and builds smartphones and tablets.
Google also previously built and designed a music-streaming device, the Nexus Q, but it quickly stopped selling the device after unveiling it last year amid questions about its price tag and usefulness.
Google's move comes as many companies have begun making laptops that can be controlled by gestures on a screen, just as smartphones and tablets are.

Chip maker Intel Corp. INTC has been particularly vocal about pushing PC makers to embrace the trend on thin portables called Ultrabooks, which include models that can be operated in a tablet or clamshell model. Most use Microsoft Corp.'s MSFT Windows 8 operating system, which has a new touch-screen interface.
Sundar Pichai, the top Google Chrome executive, acknowledged at an event in San Francisco that it might take people some time to get used to using a touch screen on laptops.
But he said it would improve the way they scroll up and down on a Web page, swipe to move through online photo albums or view sites such as Google Street View, which shows panoramic images of city streets.
Mr. Pichai also said that people will be able to use the touch screen to work on documents created by Microsoft Office programs such as Word and Excel."It's clear [that] touch is here to stay and it's the future," he said.
The Chromebook Pixel, which boots up in a matter of a few seconds, has 32 gigabytes of storage on the Wi-Fi-only device (the LTE model has 64 gigabytes) and comes with one terabyte of storage space in Google Drive online file-storage program.
Mr. Pichai said the high price tag was justified and argued that the Pixel "stands up very well against a MacBook Air," a non-touch-screen laptop made by Apple Inc.AAPL The MacBook Air with a 13-inch screen starts at $1,199 and has more storage space on the device.
Mr. Pichai said the Pixel, which uses an Intel Core i5 and has a 12.85-inch screen, has the "highest resolution screen that's ever been shipped on a laptop," and the company also touted an improved touch pad and keyboard.
Stephen Baker, an analyst at research firm NPD, said Google is "certainly out in front of a number of trends that will be impacting the market," but the Chromebook Pixel's price tag was "a big jump" from the earlier generation of Chromebooks and the Chrome operating system doesn't appear ready to compete head-on with Apple laptops or those powered by Windows 8.
Google will make the touch-enabled Chrome operating system available to other computer makers, and Mr. Pichai said he hopes that other Chrome touch devices will come on the market later this year. The Wall Street Journal on Wednesday reported on Google's touch-screen Chrome laptop initiative.
It is possible that some of the Chrome touch-screen devices would be tablets with attachable keyboards, similar to the Microsoft Surface tablet. Mr. Pichai said that would depend on what manufacturers choose to build with the software.
Even before a Chrome tablet comes on the market, industry observers will likely view the touch-screen Chrome laptop as competitive with Google's other, more-successful operating system, called Android, which powers tablets and smartphones.
Mr. Pichai said in an interview that "you'll see some overlap" between Chrome and Android, but Google "views these as choices for users" and that both operating systems will help promote Google applications such as the Web-search engine.
When the Chrome operating system initiative got under way several years ago, Google tried to build Chrome devices on its own but ultimately opted to let manufacturers such as Samsung Electronics Co. 005930.SE -1.29% do so, according to people familiar with the matter.
Addressing recent reports of Google's development of physical retail stores in order to sell Chrome devices and other hardware, including a report by the Journal, Mr. Pichai said only that Google was "committed to its retail partners."
Google has begun to ask established programmers to write compatible applications for touch-screen Chrome devices. The Chrome laptops are designed primarily to run Web-based applications, including those that use programming technology called HTML5, rather than applications stored on the device.
In addition to retail sales to individual consumers, Google is trying to sell Chromebooks to the millions of student, corporate and government customers that use Google Apps, the company's suite of Web software that competes with Microsoft's Office.
WSJ