Syrian business community giving up on Assad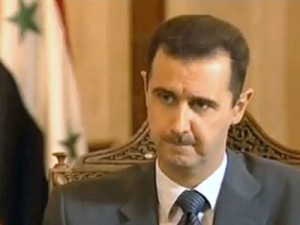 Arab countries have found a new source of foreign investment amid the region's turmoil: Syrian businessmen who have given up on their war-riven country and want to do business with neighbors.
After waiting it out for a long time, many in Syria's business class are finally coming to the conclusion that their country's conflict "is going to be a long-term crisis", said Awni al-Rushoud, head of the Jordan Investment Board. "We are trying to facilitate all tools for them," he added.
The Syrian civil war has claimed about 70,000 lives and contributed to a climate of instability across the region. With the war-ravaged economy estimated to have shrunk about a fifth last year, some businessmen are looking for new places to invest near home.
Syrian small and medium-sized enterprises in areas such as textiles and food processing are estimated to have been worth several billion dollars before the start of the uprising nearly two years ago.
Because of the small scale of individual investments, their low leverage and, in some cases, their experience of relocation because of arbitrary shifts in Syria's economic climate under the regime of Hafez al-Assad in the 1990s, the country's businessmen are "quite fleet of foot", said David Butter of the Royal Institute for International Affairs think-tank.
Although Syrians have been quietly moving their businesses and money abroad since the start of the country's uprising, economists said the process has been accelerating as violence has engulfed the commercial centres of Damascus and Aleppo.
"The whole region has Syrians going and investing," said Jihad Yazigi, editor of the Syria Report business newsletter.
The Jordan Investment Board registered more than 100m dinars ($140m) worth of Syrian investment in the last two months of 2012.
Cash-strapped Egypt is also potentially well-positioned to gain from a Syrian business exodus. Some Syrian businesses went there in the 1990s, taking advantage of its reasonable cost of living, low labour costs, textile industry knowhow and lack of visa requirements.
Samir Seifan, a Dubai-based economist affiliated with the Syrian opposition, estimated that more than 1,000 Syrian businessmen were living in Cairo.
Egypt's ministry of industry and foreign trade announced last month that it had set up a unit specifically to engage with the country's businessmen and was trying to create a "Syrian industrial area". Hatem Saleh, the industry and foreign trade minister, in January met Syrian businessmen who asked for a reduction in shipping tax to help them move equipment from Syria.
Not all of the capital fleeing Syria is going into businesses. Real estate agents said Syrians were significant buyers of Dubai properties as the market recovers from its 2008 crash that saw property values fall up to 60 per cent.
Sheikh Mohammed bin Rashid Al Maktoum, the ruler of Dubai and prime minister of the United Arab Emirates, said this week that about $8bn had flown into the country from states involved in the Arab uprising.
But he denied that his country had benefited from the revolutions, saying the UAE had invested more in these states than vice versa and that the tourism hub of Dubai would have received even more investment if there had been no unrest.
Financial Times