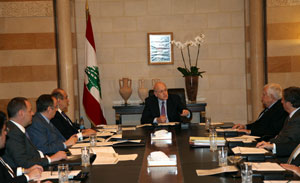 Lebanese Prime Minister Najib Mikati denied on Monday that the government would increase the Value Added Tax . This was in response to an An Nahar which claimed that VAT tax hike will be on the agenda of the cabinet that is set to meet later this week.
"The VAT increase has been previously rejected by the government, so it is no longer being discussed," Mikati was quoted as saying on Monday adding: An increase in the country's Value Added Tax (VAT) is out of the question for now."
A proposal by Finance Minister Mohammad Safadi to reform the country's 12-year-old tax law and increase it from 10 percent to 12 percent was turned down by the Cabinet in January.
Mikati's comment came before heading to the Economic Committees meeting on Monday which is aimed at improving the economic growth.
During their last meeting with Mikati, the Economic Committees, a group that represents the country's businessmen and owners of major firms, called for creating more free trade zones and resolving strikes by teachers and public workers.
According to An Nahar daily , the deteriorating economic situation has been topped with a $5.7 billion burden on the state treasury to cover the expenses of wages for public employees, end of service compensations and retirement salaries as a result of the inflation.
Last month President of the Lebanese Federation of Chambers of Commerce, Industry and Agriculture Mohammad Choucair, warned the government against a repeat of the year 2012 economic downturn in 2013 and accused it of dissociating itself from the economy of Lebanon.
In an interview with al Jamhouriya newspaper , Choucair said that all private sectors that are engaged in trade to tourism industry cannot afford another 2012 in the year 2013, adding that the flight of Arab and foreign capital poses a threat to Lebanon.