Damascus on Edge as War Seeps into Syrian Capital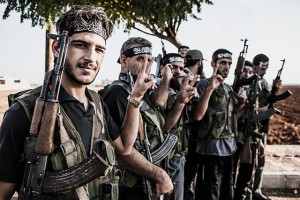 Unkempt government soldiers, some appearing drunk, have been deployed near a rebel-held railway station in the southern reaches of this tense capital. Office workers on 29th of May Street, in the heart of the city, tell of huddling at their desks, trapped inside for hours by gun battles that sound alarmingly close.
Soldiers have swept through city neighborhoods, making arrests ahead of a threatened rebel advance downtown, even as opposition fighters edge past the city limits, carrying mortars and shelling security buildings. Fighter jets that pounded the suburbs for months have begun to strike Jobar, an outlying neighborhood of Damascus proper, creating the disturbing spectacle of a government's bombing its own capital.
On Sunday, the government sent tanks there to battle rebels for control of a key ring road.
In this war of murky battlefield reports, it is hard to know whether the rebels' recent forays past some of the capital's circle of defenses — in an operation that they have, perhaps immodestly, named the "Battle of Armageddon" — will lead to more lasting gains than earlier offensives did. But travels along the city's battlefronts in recent days made clear that new lines, psychological as much as geographical, had been crossed.
"I didn't see my family for more than a year," a government soldier from a distant province said in a rare outpouring of candor. He was checking drivers' identifications near the railway station at a checkpoint where hundreds of soldiers arrived last week with tanks and other armored vehicles.
"I am tired and haven't slept well for a week," he said, confiding in a traveler who happened to be from his hometown. "I have one wish — to see my family and have a long, long sleep. Then I don't care if I die."
"I am tired and haven't slept well for a week," he said, confiding in a traveler who happened to be from his hometown. "I have one wish — to see my family and have a long, long sleep. Then I don't care if I die."
For months, this ancient city has been hunched in a defensive crouch as fighting raged in suburbs that curve around the city's south and east. On the western edge of the city, the palace of the embattled president, Bashar al-Assad, sits on a steep, well-defended ridge.
In between, Damascus, with its walled Old City, grand diagonal avenues and crowded working-class districts, has remained the eye of the storm. People keep going to work, even as electric service grows sporadic and groceries dwindle, even as the road to the airport is often cut off by fighting outside the city, and even as smoke from artillery and airstrikes in suburbs becomes a regular feature on the horizon.
But after rebels took the railway station 10 days ago in a city district called Qadam and attacked Abassiyeen Square on an approach to the city center on Wednesday, a new level of alarm and disorder has suffused the city. Rebels have pushed farther into the capital than at any point since July, when they briefly held part of a southern neighborhood.
Near the Qadam railway station last week, many of the government soldiers, their hair and beards untrimmed, wore disheveled or dirty uniforms and smelled as if they had not had showers in a long time. Some soldiers and security officers even appeared drunk, walking unsteadily with their weapons askew — a shocking sight in Syria, where regimented security forces and smartly uniformed officers have long been presented as a symbol of national pride.
The deployment appeared aimed at stopping the rebels from advancing past Qadam, either across the city's ring road and toward the downtown or to suburbs to the east to close a gap in the opposition's front line.
But even stationed here in Damascus, the heart of the government's power, the soldier at the checkpoint — who was steady on his feet — said he felt vulnerable.
"It is very scary to spend a night and you expect to be shot or slaughtered at any moment," he said. "We spend our nights counting the minutes until daytime."
The government has hit back hard, striking Qadam with artillery and airstrikes. It has also made pre-emptive arrests in Midan, the neighboring district, closer to downtown, where rebels gained a temporary foothold in July and which they said was their next target.
Soldiers summarily executed four people in Qadam on Friday, according to the Local Coordinating Committees, an anti-Assad activist network, though it was unclear if the victims were would-be military defectors or captured rebels.
On a recent journey along the front line, a traveler saw soldiers speaking harshly to residents at checkpoints outside Yarmouk Camp, a long-contested area east of Qadam that is home to both Syrians and Palestinian refugees, who have lived there for decades. Rebels took over much of the camp in December, drawing government airstrikes that drove out most residents. But about 20 percent of those people appear to have returned, in part, they said, because the government had attacked another refugee camp where they had taken shelter.
A Palestinian refugee who gave only a nickname, Abu Muhammad, was carrying a sack of bread into the camp. He said that he had started out with three sacks for his wife and three sons, but that officers — he said they were from Mr. Assad's Alawite sect — had shouted at him and confiscated two sacks, accusing him of taking bread to the rebels.
The government is pressing Palestinians to take the camp back from the rebels, Abu Muhammad said. He said that was an absurd demand from a government that bombed its own people, but made no response to last month's airstrike by Israel. "Why doesn't the regime send its 'hero' army to liberate the camp?" he said.
Another center of recent fighting is just northeast of the city. Rebels who have taken over much of the suburb of Qaboun recently pushed across the ring road there into the city neighborhood of Jobar. From there, said Abu Omar al-Jobrani, a leader of fighters in the area, they moved mortars close enough to attack a munitions factory and air force security headquarters near Abassiyeen Square, a traffic circle that is near a major stadium and that provides access to downtown.
Reports of rebel strikes on Wednesday on such a central landmark, which appeared to be backed up by videos showing black smoke pouring across the plaza, raised new fears in the capital. The government closed the roads around the square, causing traffic jams deep into downtown, and sent dozens of security men to protect the Parliament building. Terrified residents of the central Old City closed their shops.
Fighting continued over the weekend, as the government and rebels fought for control of the ring road near Jobar. Shells and airstrikes kept raining on the neighborhood, sending dust and smoke into the air, higher than the minarets on its mosques.
NY Times