Lebanese rally for civil marriage in downtown Beirut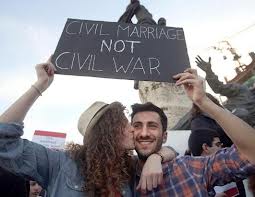 A rally was held on Monday at the Martyrs Square in downtown Beirut to demand the legalization of civil marriage in the country, amid strict security measures by the army and the Internal Security Forces, National News Agency reported.
Demonstrators carried banners that read " Civil marriage not civil war", "Towards a Democratic Civil Country that Respects Civil Rights" and "For a Civil Law that Ensures the Rights of Citizens and Allows Civil Marriage in Lebanon."
Bahjat Salameh, a spokesman for the protesters said during his speech at the rally:
"Today, Lebanese citizens are united in demanding the legalization of civil marriage", he added.
Another speaker, Roger Bejjani, called on clergymen to " to stick to religious issues only and to end their control over people's affairs and their personal choices."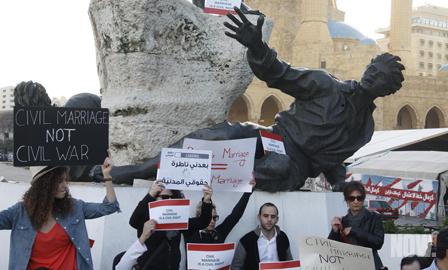 "We are the advocates of a revolution towards an actual, not theoretical, secular state, under the constitution." Bejjani said
He saluted the couple "Kholoud and Nidal" and said "let them be the Bouazizi of Lebanon."
Tarek al-Tayeb Mohamed Bouazizi was a Tunisian street vendor who set himself on fire on 17 December 2010, in protest of the confiscation of his wares and the harassment and humiliation that he reported was inflicted on him by a municipal official and her aides. His act became a catalyst for the Tunisian Revolution 2 and the wider Arab Spring, inciting demonstrations and riots throughout Tunisia in protest of social and political issues in the country. The public's anger and violence intensified following Bouazizi's death, leading then-President Zine El Abidine Ben Ali to step down on 14 January 2011, after 23 years in power.
The civil marriage issue gained momentum soon after Kholoud Sukkariyah and Nidal Darwish challenged the sectarian personal status code in Lebanon and became the first couple to hold a civil marriage in lebanon. Since then another couple Shaza Khalil and Tony Dagher followed their lead and decided to tie the knot in a civil union.
Lebanon's top Sunni Muslim cleric, Grand Mufti Sheikh Mohammed Rashid Qabbani declared war on civil Marriage by issuing a fatwa branding as an apostate any Muslim politician who approves its legislation.
"Any Muslim with legal or executive authority in Lebanon who supports the legalisation of civil marriage is an apostate and outside the religion of Islam," he said on the website of Dar al-Fatwa, the official institution for fatwas.
He branded Civil marriage as a bacteria.
"There are predators lurking among us, trying to sow the bacteria of civil marriage in Lebanon, but they should know that the religious scholars will not hesitate to do their duty" and prevent the passage of such a bill. "
He issued a warning to Muslim officials who support the Civil marriage issue that they would not be eligible to be buried in a Muslim cemetery
" Such officials would not be washed, would not be wrapped in a burial shroud, would not have prayers for their soul in line with Islamic rules, and would not be buried in a Muslim cemetery," Qabbani warned
His fatwa came days after Lebanese President Michel Suleiman's announcement in Arabic and English on his Facebook page that Lebanon should work on drafting a civil marriage law to help build unity in the multi-faith country. Suleiman's announcement helped the issue gain momentum . 95 % of the respondents reportedly backed the president's position .
Lebanese authorities recognize civil weddings only if they have been registered abroad, and thousands of mixed-faith couples have traveled to nearby Cyprus or Turkey to marry.
Approximately 700 couples from Lebanon head to Cyprus only for civil marriages every year, the island nation's ambassador to Beirut, Homer Mavrommatis, told NOW Lebanon on Monday.