Lebanon issues arrest warrants against 2 Syrian officials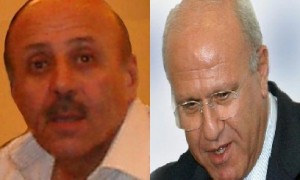 First Military Investigative Judge Riad Abu Ghida issued an arrest warrant in absentia on Monday against Syrian National Security Chief General Ali Mamlouk who was accused of plotting terrorist attacks in Lebanon , National News Agency reported.
The NNA report added that the judge also issued an arrest warrant against Mamlouk's assistant Brigadier General " Adnan" ( identified by his first name only) , before concluding the investigations in the case.
The file will now be referred to the military general prosecution, NNA added, since the the investigation has been completed.
Both officials were involved in the terrorism plot of former Information Minister Michel Samaha.
On August 9, Lebanese security forces arrested the former Lebanese minister, who has close ties with Syria's embattled regime. He was indicted with smuggling weapons into Lebanon in a bid to foment terrorism.
Photo: Former Information Minister Michel Samaha ( R) and Syrian National Security Chief General Ali Mamlouk . Judge Riad Abu Ghida issued an arrest warrant in absentia on Monday against Mamlouk