Syria's Khatib under fire for talks with Assad allies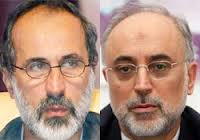 Syria's opposition leader flew back to his Cairo headquarters from Germany on Sunday to explain to skeptical allies his decision to talk with President Bashar al-Assad's main backers Russia and Iran, in hope of a breakthrough in the crisis.
The Russian and Iranian foreign ministers, and U.S. Vice-President Joe Biden, portrayed Syrian National Coalition leader Moaz Alkhatib's new willingness to talk with the Assad regime as a major step towards resolving the two-year-old war.
"If we want to stop the bloodshed we cannot continue putting the blame on one side or the other," Iran's Ali Akbar Salehi said on Sunday, welcoming Alkhatib's overtures and adding that he was ready to keep talking to the opposition. Iran is Assad's main military backer together with Russia.
"This is a very important step. Especially because the coalition was created on the basis of categorical rejection of any talks with the regime," Lavrov was quoted as saying on Sunday by Russia's Itar Tass news agency.
Russia has blocked three U.N. Security Council resolutions aimed at pushing Assad out or pressuring him to end a civil war in which more than 60,000 people have died. But Moscow has also tried to distance itself from Assad by saying it is not trying to prop him up and will not offer him asylum.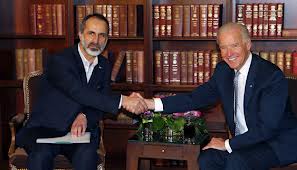 Syrian state media said Assad received a senior Iranian official and told him Syria could withstand "threats … and aggression" like an air attack on a military base last week, which Damascus has blamed on Israel.
"USELESS" TALKING TO IRAN
Politicians from the United States, Europe and the Middle East at the Munich Security Conference praised Alkhatib's "courage". But the moderate Islamist preacher was likely to face sharp criticism from the exiled leadership back in Cairo.
Alkhatib has put his leadership on the line by saying he would be willing to talk to representatives of the Assad regime on condition they release 150,000 prisoners and issue passports to the tens of thousands of displaced people who have fled to neighboring countries but do not have documents.
"He has a created a political firestorm. Meeting the Iranian foreign minister was totally unnecessary because it is useless. Iran backs Assad to the hilt and he might as well have met with the Syrian foreign minister," said one of Alkhatib's colleagues on the 12-member politburo of the Syrian National Coalition.
Alkhatib, whose family are custodians of the Umayyad Mosque in the historic centre of Damascus, is seen as a bulwark against Salafist forces who are a main player in the armed opposition.
He was chosen as the head of the Coalition in Qatar last year, with crucial backing from the Muslim Brotherhood.
The Syrian opposition member, speaking on condition of anonymity, pointed to comments by Salehi and Lavrov on Sunday, a day after their meetings with Alkhatib, as evidence that they had not changed their positions and still backed Assad.
Salehi told the Munich conference where the round of talks took place that the solution was to hold elections in Syria – making no mention of Assad having to leave the country.
FIZZLE OUT?
Firm opposition backers like Qatar's Prime Minister Hamad bin Jassim al-Thani and U.S. Republican Senator John McCain voiced frustration in Munich at the international community's reluctance to intervene in the Syrian conflict.
"We consider the U.N. Security Council directly responsible for the continuing tragedy of the Syrian people, the thousands of lives that were lost, the blood that was spilled and is still flowing at the hands of the regime's forces," said al-Thani.
Moscow played down the significance of the discussions in Munich, with one diplomatic source calling the talks between Lavrov and Alkhatib "simply routine meetings".
"We have presented our views when Minister Lavrov meet Alkhatib, we have noted his comments that there is still a chance for dialogue with Syrian government. That is something we have called for," said the Russian source.
"To what extent is that realistic, that's a different matter and there are doubts about that," said the source.
One source in Khatib's delegation said the offer of dialogue would find an echo among Syrians opposed to Assad who have not taken up arms "and want to get rid of him with the minimum bloodshed".
Fawaz Tello, a veteran Syrian opposition campaigner based in Berlin, said Alkhatib had made "a calculated political manoeuvre to embarrass Assad".
"But it is an incomplete initiative and it will probably fizzle out," Tello told Reuters. "The Assad regime cannot implement any item in the series of initiatives we have seen lately because it would simply fall."
Russia and Iran were already beginning to use Alkhatib's initiative negatively, he said, while "the regime and its allies will only treat Alkhatib's meetings as an additional opportunity to smash the rebellion or weaken it".
Asked about the risk of his strategy being seen as a sign of weakness in the opposition or frustration at the Free Syrian Army's gains, Alkhatib told Reuters in Munich: "The fighters have high morale and they are making daily advances."
Reuters