Turkish leftist group claims U.S. embassy bombing
Turkish leftist group DHKP-C claimed responsibility on Saturday for a suicide bomb attack on the U.S. embassy in Ankara, according to a statement on a website close to the group.
"Our warrior Alisan Sanli carried out an act of self-sacrifice on Feb 1, 2013, by entering the Ankara embassy of the United States, murderer of the peoples of the world," the statement on "The People's Cry" website said.
The statement was posted next to what it said was a picture of the bomber, dressed in a black beret and military-style clothes with what appeared to be an explosives belt strapped around his waist.
The attacker detonated explosives strapped to his body, as well as a hand grenade, inside an embassy gatehouse, killing himself and a Turkish security guard and critically wounding a journalist on her way to visit the ambassador.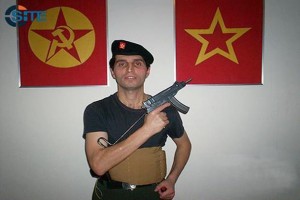 The The Revolutionary People's Liberation Party–Front, (Turkish: Devrimci Halk Kurtuluş Partisi-Cephesi or DHKP/C) is a Marxist-Leninist party and terrorist group that strongly opposes any NATO or U.S. influence over foreign policy in Turkey. For the past few decades, they've targeted a series of Western and Turkish officials, professors and businessmen with suicide bombings.
The organisation was originally formed in 1978 by Dursun Karataş as Revolutionary Left (Turkish: Devrimci Sol or Dev Sol), a splinter faction of Devrimci Yol ("Revolutionary Way", also known as Devrimci Yol), which splintered from the People's Liberation Party-Front of Turkey (THKP-C), which in its turn was a splinter of Revolutionary Youth Federation (commonly known in Turkish as Dev Genç).
Reuters/ agencies