Another Hezbollah jihadist killed in Syria, buried in Lebanon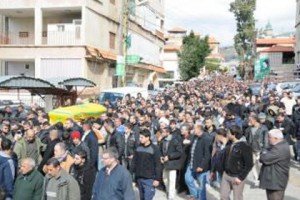 Another Hezbollah jihadist was killed in Syria and was buried in the southern Lebanese town of Arab Salim.
"He died while he was performing his jihadist duty," said a Hezbollah statement .
The statement which was issued on Saturday, said that the funeral of "martyr Hussein Mohammad Nazer, who died performing his Jihadist duties" took place in the southern Lebanese town earlier in the day.
"The funeral procession marched from Ragheb Harb Hospital in Nabatieh towards Arab Salim where the martyr was buried," the statement said.
Hezbollah has been accused of sending its members to fight alongside the Syrian army in its brutal crackdown against the uprising.
Asharq al-Awsat newspaper reported in January that around 1,500 men are receiving salaries and being trained in the Bekaa camps to fight in Syria alongside the forces loyal to president Bashar al Assad
Also the Saudi al-Watan newspaper reported that some 5,000 Hezbollah members have been fighting alongside regime troops in the suburbs of Damascus.
The newspaper quoted sources as saying that the fighters crossed the border into Syria last month. But they said that around 300 of them were killed in the fighting in the past few days.
More than 60,000 people have been killed since the revolt against Assad's rule erupted in March 2011, according to The United Nations estimates