Hariri: The Orthodox law is a crime against Lebanon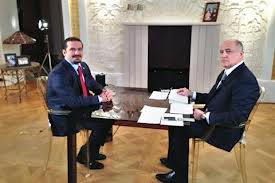 In a TV interview with Marcel Ghanem Thursday evening which was broadcasted live from Paris on LBC's "Kalam Ennass" program , former Lebanese Prime minister and the leader of the largest parliamentary bloc Saad Hariri rejected the proposed Orthodox electoral law " because it divides the Christians and Muslims and this is a crime against Lebanon"
Hariri proposed a four-point political initiative aimed at preserving coexistence in Lebanon between The Christians and Muslims.
His proposal calls for:
1- Organizing the elections on time according to an electoral law that is based on smalle electoral districts
2- Establishing a senate that represents all sects as defined by the Taef Accord
3- Adopting administrative decentralization
4- Including the Baabda declaration in the preamble of the Constitution.
Asked why he is against the Orthodox gathering proposal, he said because his dream for Lebanon is for the Christians and Muslims to be together as one:
"I want to be honest and clear. I am "the son" of March 14. I was born politically in 2005 when Rafic Hariri was killed. I saw a nun making the sign of the cross and praying at his grave, while others next to her where reciting verses of the Koran. Every person who took to the street on March 14, 2005 was carrying the Lebanese flag. In that historical moment, Gerbran Tueni said that we will remain together, Muslims and Christians, forever. I saw Pierre Gemayel and Samir Kassir, in this square, with all the Lebanese, Muslims and Christians. So how can I give up on all this? My dream for Lebanon is for the Christians and Muslims to be together as one. We cannot forget what our ancestors did since 1920, when the State of Greater Lebanon was established. Shall we, in 2013 burry everything our ancestors did?"
He added: "As politicians, we have responsibilities, and both Christians and Muslims have concerns. The 2000 law was crafted against Rafic Hariri, and he was killed in 2005. In 2009 the elections were held, and we won. What happened after?
Hariri stressed that the concerns should be dealt with rationaly rather than with sectarianism.
Hariri said that he accepts the electoral law proposal put forward by the March 14 MPs , based on the the 50 constituencies for electing the Parliament and the Senate will be elected on the basis of the so called Orthodox Gathering draft electoral law.
Commenting on the possibility that his initiative might not be examined by the Parliament committee, Hariri said: "We want to solve a problem; the first person to oppose the Orthodox law was the President of the republic. Isn't he a Christian? He is the First Christian. He looks for the Lebanese interest, not mine or that of March 8 or 14.We agree with him on this".
Hariri stressed : "The orthodox law divides the Lebanese, I cannot accept it for electing the parliament".
Asked why he rejects the proportional representation, Hariri said that the reason is that there will be competition in some regions, but there cannot be any competition in other regions, because of the presence of weapons in them.
He is referring to the 2009 election in the areas dominated by the Hezbollah. According to the reports that surfaced back then Hezbollah gunmen prevented their rivals from voting and the results of the election showed it. On the other hand in the March 14 dominated areas several Hezbollah backed candidates won the election that was based on winner take all . In a proportional representation system Hezbollah will be able to gain more seats in the March 14 dominated areas but will not lose any seats in its dominated areas as long as it is allowed to keep its arms and use them internally for political gain .
Hariri added that if March 8 had won the last elections, they wouldn't have wanted to change the law now, noting that "the Orthodox draft law was put on the table for political outbidding. The orthodox law wants to tear the Lebanese apart, but we want to preserve coexistence".
Hariri stressed the importance of establishing a senate as agreed in the Taef accord, because it will guarantee the rights of all sects.
Asked about Parliament Speaker Nabih Berri's efforts Hariri said:" Speaker Berri is working on unifying the efforts to reach an electoral law that could be adopted for the 2013 elections. He is trying his best to bring the views closer. "
Asked why Hezbollah should accept an electoral law in which their rivals would control the country, while Future Movement will not accept an electoral law that would lead to Hezbollah's control on the country, Hariri said: "We won a parliamentary majority in 2009 and we extended our hand to form a national unity government, but when they took over they formed their own government. And now you see for yourself what happened to the economic and security situation in the country after they governed ."
He added: " We are ready to discuss any electoral law that everybody agrees on, and at the same time we are not seeking power, but we want to preserve coexistence and have real democracy and freedom, " adding:" In the 2009 elections, we could have nominated candidates from the Future movement in all Lebanese regions, but I didn't do so because I believe that there are other independent voices with new ideas that should be heard ."
Hariri added: "March 14 Forces have national principles. Samir Geagea, Amine Gemayel or the independent figures didn't change their positions regarding these national principles on which we agreed on March 14. Both Geagea and Gemayel said that there is no future without the Future ( Movement) and I say that there is no future without the participation of all March 14 Forces."
"
Commenting on reports that the Orthodox Gathering draft electoral law is supported by about 70 MPs, Hariri said :
Regardless of this such law will be faced by the veto of President Michel Suleiman, the Future Movement, the independents, and MP Walid Jumblatt and if the Constitutional Council rejected the law, what would we do? Do we remain where we are or do we return to the small constituencies? The Orthodox Gathering draft electoral law is rejected by the President because it divides the Christians and Muslims and this is a crime against Lebanon. "
Asked what type of government March 14 forces would form if they win the elections, Hariri said: "We will extend our hand, but no one should dream this time of having veto power like before. We will not repeat the mistakes of the past."
Asked what he would do if he wins the elections, he said: "We will do the opposite of what this government is doing, on the level of electricity, communication, roads, everything. Because Lebanon today is not the Lebanon we know. This government talks a lot but did nothing. They criticize what Rafic Hariri or Fouad Siniora did. Rafic Hariri built an aiport, a sport city, Solidere. He built Lebanon and we want to pursue this path. We accomplished Paris-I and II and III ( donor conferences ). What have they accomplished?".
Asked about the calls for national dialogue he said :
"The dialogue table has only one issue to be discussed which is the weapons, and this subject should be dealt with in a calm way because it obviously represents a great burden on the Lebanese people and on Lebanon. "
Asked if he will return to Beirut before the elections, he said that he will " return for sure to Lebanon before the elections and will decide the exact moment".
Asked if he wants this February 14th to visit the his father's grave , which now also includes the remains of former Intelligence chief Wissam el-Hassan who was assassinated last october he said: "Two roses, Wissam and Rafic el-Hariri. I hope to be there, but every day in my life is a February 14th. This date did not plant hatred in my heart but determination, because the dream of Rafic Hariri has to succeed, and it will succeed".
At the end of the interview, Marcel Ghanem told Hariri that almost one million people voted on the question asked by Kalam ennass (Are you with or against the return of Saad Hariri as Prime Minister?), and that the result was: 73.3 % with. Hariri responded by saying: I thank the people for their trust, I will not disappoint you and I don't want to stay away from you. There are good things awaiting Lebanon."
Jumblatt/ Gemayel visit
Asked about the purpose of his meetings with his allies in Paris he said:
"Communication with the allies is very important. President Amine Gemayel came to Paris to meet with French President Francois Hollande, so we met and discussed what is happening in Lebanon. We discussed the electoral law and the concerns of my allies and I gave my point of view on the orthodox law."
Regarding MP Walid Jumblatt, Hariri described him as "a friend, who will remain a friend, and who stood by us after the assassination of Rafic Hariri".
Syria
Asked about the situation in Syria , Hariri said :
The Syrian regime is murderous and corrupt, and won't last very long", adding" the Syrian people will win in the end"
Hariri went on to explain that what is happening in Syria is a revolution. "There is no doubt that this regime is a killer. It is the same regime that killed the Lebanese and today it is killing and slaughtering its own people. When we demanded to have an international tribunal, we didn't know that there will be an Arab spring. We insisted on the tribunal because we wanted justice. We see that the Syrian people revolted against the regime because they want freedom, democracy , justice and sovereignty. We are are sure that this regime which oppressed Lebanon too for many years will fall."
He said that the Syrian regime is involved in the assassination of Martyr Prime Minister Rafic Hariri and this will be revealed in court , expressing his belief that the same killers assassinated both Rafic Hariri and Wissam al-Hassan.
Asked about the attitude of Hezbollah if the Syrian regime falls:
"I don't know", but we will call them for dialogue … will be happy if the regime falls, but will not behave the way Syria's allies behaved towards us when this regime was there. He pointed out that "Syria's allies, during the last 8 years, preferred that regime over their partners in Lebanon".
Hariri added: "We should use this as an opportunity to unite all the Lebanese and rebuild Lebanon together ".
Asked if he would meet with Hezbollah Secretary General Sayyed Hassan Nasrallah if someone mediates between them, Hariri said: " if the purpose of such a meeting is just to talk, it is meaningless, if it can be useful then yes".
Hariri denied his group is sending fighters to Syria and stressed that what Future Movement MP Okab Sakr is doing is standing by the Syrian people and the leaders of the opposition :He added: "I am also in contact with the Syrian opposition and I have met with their leaders Moaz el-Khatib and Burhan Ghalioun".
Civil Marriage:
Commenting on the hot civil marriage issue , Hariri blasted the fatwa taken by Lebanon's top Sunni Muslim cleric, Grand Mufti Sheikh Mohammed Rashid Qabbani:
"The fatwa of the Grand Mufti which considers those who accept civil marriage to be apostates- is unacceptable." He pointed out that "more than 700 million Muslims in countries like Indonesia, Turkey, Malaysia and other countries all conclude civil marriage. Can the Grand mufti call them all apostates? Is Erdogan an apostate?"
He added that the issue of civil marriage is a controversial one in Lebanon and needs a real dialogue.