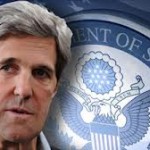 After 28 years in the Senate, one failed presidential bid, and four years as chair of the Senate Foreign Relations Committee, John Kerry, D-Mass., was formally confirmed this afternoon to succeed Hillary Clinton as secretary of state, sailing through the Senate confirmation process in a matter of days and receiving near-unanimous approval from his colleagues for the job.
Kerry, whose nomination was announced last month, was approved by the Senate Foreign Relations Committee — on which he served for the past 28 years — with a swift, unanimous voice vote this morning. This afternoon, the full Senate voted to approve his nomination by a vote of 94-3, with one senator voting present: Kerry. The three "nay" votes were Sens. John Cornyn, R-Texas; Ted Cruz, R-Texas; James Inhofe, R-Okla.
Kerry could be sworn into office as early as Friday, which is also Clinton's last day on the job.
The longtime Massachusetts senator has faced little opposition in his bid for the top job at the State Department: Before his nomination in December, as a handful of Republican senators raised questions about the potential nomination of U.N. Ambassador Susan Rice, some on the right actively started suggesting Kerry as an alternate candidate. Rice ultimately withdrew her name from consideration for the job due to protracted criticism over comments she made about Benghazi, and Mr. Obama tapped Kerry as the nominee about a week later.
Debate on the Senate floor today hardly qualified as such: Most of the senators spoke highly of Kerry, offering up personal anecdotes and praising his experience. Even the committee's ranking Republican said he was "happy" for Kerry's good fortune.
"I know a lot of people think that because of the way partisan politics are here in Washington, that sometimes we can't be happy for someone on the other side of the aisle when they do well, and nothing could be further from the truth," said Sen. Bob Corker, R-Tenn. "I don't know of anybody who's lived a life that has been more oriented towards ultimately being Secretary of State than John Kerry. And for that, I also am happy for him and his family and the fact that very soon he's going to be able to express himself on behalf of our nation in this way."
Sen. Bob Menendez, D-N.J., who has been leading the Senate Foreign Relations Committee proceedings during the process in Kerry's place, expressed his confidence in Kerry's ability to represent the nation on the world stage.
"As a senator, as a member of this committee, and as a chairman, John has already built strong relationships with leaders across the world, which will allow him to step seamlessly into the role of secretary of state," said Sen. Bob Menendez, D-N.J., on the Senate floor. "Senator Kerry will need no introduction to the world's political and military leaders and will begin day one fully conversant not only with the intricacies of U.S. foreign policy but able to act on a multitude of international stages."
In confirmation hearings last week in the Senate Foreign Relations Committee, Kerry laid out his vision for U.S. diplomacy on the world stage, and spoke urgently about the role he believes the American economy plays in its diplomacy efforts. He also shot down suggestions that there was any "daylight" between his and Clinton's governing philosophies.
Clinton, meanwhile, called him the "right choice" to take her place.
Once sworn in to the president's cabinet, Kerry will officially abandon his Massachusetts seat. According to a report yesterday from the Boston Globe, a special election to fill his spot has already been set for June 25.
CBS