Jumblatt, Hariri stress the need to preserve coexistence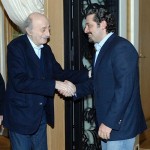 As was expected Progressive Socialist Party leader MP Walid Jumblatt visited on Tuesday night former prime minister Saad Hariri at his residence in the French capital Paris
Jumblatt and Hariri "stressed the need to preserve the Taef constitution and religious coexistence in Lebanon which provide protection for national unity and stability in the face of these challenges," according to a statement issued by Hariri's office.
The two leaders also "discussed the regional developments and the challenges Lebanon is facing," the statement added.
They also discussed the electoral law proposals and the positions declared by the major Lebanese political parties . The two national figures agreed "to pursue consultation on this matter in a way that serves the interest of Lebanon and the Lebanese."
Jumblatt , who is on an official visit to France met yesterday with French President Francois Hollande . He was quoted following the meeting that he stressed the importance of preserving stability in Lebanon and safeguarding the country from Syria's conflict."
On Monday Hariri also met with Phalange Party leader Amin Gemayel. Following the meeting Gemayel w An Nahar daily in remarks published on Tuesday."Efforts are currently being exerted to achieve true partnership while preserving the March 14 (alliance) and the national interest," Gemayel told An Nahar daily in remarks published on Tuesday.