President Obama addresses the Syrian people via Video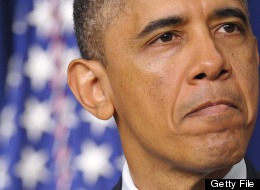 US President Barack Obama released a video statement to the Syrian people attesting to the U.S. commitment to their humanitarian needs amid fresh reports of civilian killings by the Assad regime.
The three-minute video with Arabic subtitles was circulated today by the White House in connection with a U.S. announcement of $155 million in new humanitarian assistance to Syria. The move comes days after Obama indicated in an interview no move toward U.S. military intervention.
"The relief we send doesn't say 'made in America' but make no mistake, our aid reflects the commitment of the American people," Obama says in the statement.
"I want to speak directly to the people of Syria," Obama says. The aid will help bring clothing for children, medical care, winter supplies and "flour and wheat for your families."
The video was released via Twitter Inc.'s social-networking site, shown on the Al Arabiya news channel and distributed to the Syrian opposition and pan-Arab media, according to the White House.
The additional aid brings the U.S. contribution to $365 million, which Obama said made the U.S. "the largest single donor of humanitarian assistance" to Syria.
He called on other countries to do more, while saying that Syrian President Bashar al-Assad's regime "continues to weaken" and "will come to an end."
Syrian rebels, mostly Sunni Muslims, have been fighting to oust Assad since March 2011 in a conflict that, according to the United Nations, has left at least 60,000 people dead.
Obama Deliberations
UN refugee agencies and partner organizations said in December they need $1.5 billion in donations to support Syrian refugees and displaced persons still inside Syria for the first half of 2013. The appeal is based on planning estimates that as many as 1 million Syrians forced from their homes will need help.
In an interview published by The New Republic magazine in its Feb. 11 issue, Obama said he has struggled with whether military intervention in Syria would make matters better or worse, how it would affect U.S. forces in Afghanistan, and whether Syrians deserve U.S. intervention more than people in other war-torn regions around the world.
"How do I weigh tens of thousands who've been killed in Syria versus the tens of thousands who are currently being killed in the Congo?" he said.
The Syria video was released as Assad opponents said dozens of people were found dead near Aleppo.
Aleppo Deaths
Robert Danin, a senior fellow for Middle East and Africa studies at the Council on Foreign Relations, a policy institute in Washington, said Obama's video appears aimed at defending the U.S. response.
"He's clearly trying to show and tell the people of the Arab world the U.S. is very involved in delivering assistance to Syria," Danin said. "It may not be lethal, it may not be military, but he went out of his way to point out the U.S. is the single largest contributor of assistance."
"He's also trying to beat back criticism," Danin said. "He's trying to get in front of the story rather than have the story be 'The United States is standing by while Syrians suffer.'"
Obama has previously used video statements to reach audiences outside the U.S., including messages to the Iranian people on the Nowruz holiday with subtitles in Farsi, and a video with Arabic subtitles for an entrepreneurship summit last year in Dubai.
'Huge' Dilemma
While the question of military involvement is "a huge foreign policy dilemma and challenge," Danin said, "I think the U.S. could be more activist on Syria even without being militarily engaged."
White House press secretary Jay Carney, asked about the New Republic interview during a briefing yesterday, warned against "over-reading" Obama's comments about Syria.
"We continue to take steps with our partners to provide both humanitarian aid and non-lethal assistance to the opposition, and to work with our partners to help bring about a post-Assad Syria that reflects the will of the Syrian people," Carney said.
In the New Republic interview, "the inadvertent message may have been, 'The world's a rough place and there's only so much I can do to help' and it sent a message we were not going to be that engaged in helping Syria," Danin said. "Maybe that's a perception he's trying to correct."
Secretary of State Hillary Clinton, in a virtual town hall forum today, said that the tools of social media had become an important aspect of diplomacy during her time as secretary of state.
"We're using them now, with Twitter and Facebook because there needs to be a two-way conversation," Clinton said. "It's no longer government just talking at people."
Bloomberg