Lebanon Mufti declares war on civil Marriage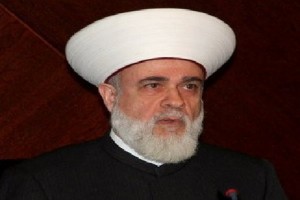 Lebanon's top Sunni Muslim cleric, Grand Mufti Sheikh Mohammed Rashid Qabbani declared war  on civil Marriage by   issuing a fatwa branding as an apostate any Muslim politician who approves its legislation.
"Any Muslim with legal or executive authority in Lebanon who supports the legalisation of civil marriage is an apostate and outside the religion of Islam," he said on the website of Dar al-Fatwa, the official institution for fatwas.
He branded Civil marriage as a bacteria.
"There are predators lurking among us, trying to sow the bacteria of civil marriage in Lebanon, but they should know that the religious scholars will not hesitate to do their duty" and prevent the passage of such a bill. "
He issued a warning to  Muslim officials who support the Civil marriage issue that  they would not be eligible to be buried in a Muslim cemetery
" Such officials  would not be washed, would not be wrapped in a  burial  shroud, would not have prayers for their soul in line with Islamic rules, and would not be buried in a Muslim cemetery," Qabbani warned
His comment comes days after   Lebanese President Michel Suleiman's announcement  in Arabic and English on his Facebook page that Lebanon should work on drafting a civil marriage law to help build unity in the multi-faith country, appears to have helped the issue gain momentum . 95 % of the respondents reportedly backed the president's position .
The first one to denounce civil marriage  was   Prime Minister Najib  Mikati  who called  the  debate on  the issue  a waste of time and useless .
Mikati's comments  has already  surely disappointed many Lebanese who were hoping that the government will take up this issue immediately and refer it to the parliament for a vote.
Progressive Socialist party leader MP Jumblatt , who along with Suleiman and Mikati form the centrist  bloc in the cabinet praised Suleiman's announcement   calling  it progressive thinking"  and adding "this measure will mark the beginning of the process of elimination of sectarian barriers in the country
3 cabinet ministers also jumped on the civil marriage bandwagon after Suleiman's announcement and voiced their support for it as an alternative.
Interior Minister Marwan Charbel who  represents Suleiman and  Qortbawi  who represents MP Michel Aoun announced during separate interviews with an Nahar newspaper in remarks published last Monday that they support civil marriage in Lebanon as an alternative but both said the issue requires proper laws that regulate such a union . Tourism Minister Fadi Abboud who also represents Aoun reportedly asked the prime minister to put the issue on the Cabinet's agenda next week.
What Mufti Qabbani failed to understand or grasp  according to observers is that Lebanon is not  an Islamic state run by  the Islamic Shariaa law and what he also missed  is the fact  that for about $1500, a couple can fly to neighboring  Cyprus , get a civil marriage, return to Lebanon and their marriage  will be legally  recognized in Lebanon. In addition , what he also  failed to grasp according to observers  is the fact that civil marriage is  being proposed as an option and no  one  will forcing Muslims  or Christians  from any sect to have a civil marriage.
The  issue  gained momentum soon after Kholoud Sukkariyah and Nidal Darwish challenged the sectarian personal status code in Lebanon and became the first couple to hold a civil marriage in lebanon
To achieve their objective was not easy and required some paperwork including deleting  the mention of their religious sects from their Lebanese IDs and basing their marriage on Decree No. 60 L.R. which was adopted in 1936 by the High Commissioner during the French Mandate in Lebanon , which organizes and recognizes sects and grants them rights.
Attorney Talal Husseini, who authored their contract  revealed that  the  decree says that those who are not affiliated with a sect are subject to the civil law of personal status, as well as to the introduction of the Constitution which adopts the Universal Declaration of Human Rights.
"Kholoud and Nidal's marital contract was signed by the Notary Public and it was referred to the  Interior Minister  who will look into its legitimacy," LBCI  quoted Attorney Husseini as saying last week
The chairman of the Parliament's Human Rights Committee MP Michel Musa said last week  that the government should allow couples to have a civil marriage in Lebanon instead of forcing many Lebanese travel abroad to wed.
According to observers there will be a lot of pressure on Mikati from within the cabinet , the legislative and the executive branches to take up this issue while it is still hot.
Gemayel slams Qabbani over fatwa
Phalange MP Sami Gemayel slammed the mufti's remarks in Tuesday as a violation of the civil state.
Speaking to reporters in Parliament, Gemayel said: "The mufti's comments are a violation of the civil state and every Lebanese person's right which is stipulated in the Constitution."
"It is the right of any Lebanese to abide by religion or not and we believe that any violation to that right is a violation of the constitution."
He added that forcing any Lebanese to do something either physically or mentally is punishable by law, and that every lawmaker is obliged to protect the right of freedom of belief of citizens.