Assad's wife Asma is pregnant, report
President Bashar al-Assad's forces have slaughtered more than 60,000 Syrians over the past 22 months but his British-born wife is apparently trying to offset those losses: she is said to be pregnant.
The Syrian dictator gave the news to some recent Arab "visitors", the pro Syrian Beirut newspaper al-Akhbar reported yesterday.
"The man seems calm and in control," the al-Akhbar article says of Assad. "His confidence level stands out. Also, there's the news of the pregnancy of his wife Asma, which could not be dealt with as a simple personal matter between a couple."
Asma Assad, 37, was born in London to upper-class Syrians. She was an investment banker before leaving England for Syria, where she married Assad two months after he assumed the presidency in 2000. Before him, his father Hafez Assad ruled the country for 30 years.
Asma Assad has not been seen recently – which Arab online news site Al Bawaba attributes to her pregnancy. Citing a Syrian news outlet, Al Bawaba reports that she was five months pregnant in November, which means her due date is imminent.
This also means she likely became pregnant in June, a remarkably violent month for Syria. United Nations monitors left the country that month because it was deemed too dangerous, and because Assad had refused to abide by cease-fires.
Eight thousand people had been killed in the conflict in that month , the U.N. estimates – and Syrian citizens were fleeing for the country's borders. Thousands were leaving each day; now tens of thousands are leaving, most at night, dodging fire from Assad's troops.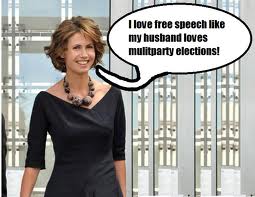 Asma Assad had also become a controversial figure, with diplomatic wives around the world pleading with her to reason with her husband. Around the same time, a hacker had released thousands of emails from the Assads' email accounts, revealing Asma Assad's love for Chanel dresses and crystal-encrusted Louboutin shoes – and also her fierce loyalty to her husband and his hard-line approach.
The European Union then slapped her with sanctions, saying she could no longer travel to Europe or shop at European companies.