Syrian rebels free 300 prisoners from a jail near Turkey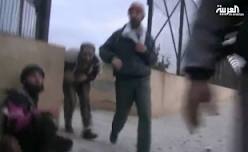 Syrian opposition fighters have freed about 300 prisoners from a jail near the border with Turkey and found 30 others shot in the head, an opposition activist said on Saturday. Fighters from various brigades have been attacking the Idlib Central Prison for the last three days.
They took over one of its two main buildings late on Friday and are surrounding the second building, which is located on a hilltop and is better defended, activist Abu Ali said. Video footage showed rebels leading prisoners away from the jail amid the sound of automatic gunfire and chants of "God is greater".
Others were shown inside the building looking for prisoners. "Thirty bodies of prisoners were found shot in the head by their jailers before they escaped to adjacent olive groves," Ali said by phone from the scene.
"Those found alive and freed were mostly political prisoners jailed since the start of the revolt. They have been without food for 2-3 days. Their jailers didn't have time to feed them, or didn't want to," he added.
He said dozens of security personnel were killed or wounded in the attack, as well as several fighters. Government jets bombed the lower building area shortly after the prisoners were released.
The prison is located on the western outskirts of Idlib, 330 km (205 miles) northwest of Damascus. The city is among the last few areas in the province still controlled by President Bashar al-Assad's forces in the country's civil war.
Syrian authorities have jailed tens of thousands of people since the start of the uprising against Assad 22 months ago. Most are being held without trial, according to human rights defenders. A large proportion of prisoners are held in underground secret police dungeons and the fate of many is unknown.
IDN