Syrian rebels clashed with Assad forces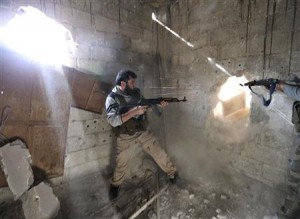 BEIRUT, Lebanon- Syrian rebels clashed with forces loyal toPresident Bashar al-Assad in southwest Damascus on Sunday, forcing the closure of the main highway to the southern town of Deraa, activists said.
The fighting came as United Nations humanitarian chief Valerie Amos visited Syria ahead of a U.N. aid conference which aims to raise $1.5 billion for millions of people made homeless, hungry and vulnerable by the 22-month-old conflict.
The United Nations says 60,000 people have been killed in the conflict, which started with mainly peaceful protests but spiraled into a civil war in which the mainly Sunni rebels have challenged Assad's control of all Syria's main cities.
In Damascus, the two sides fought around a railway station in the southwestern district of Qadam.
Footage posted on the Internet showed what activists said was a rebel attack on the station. One clip showed plain-clothed gunmen taking cover as gunfire could be heard. Another showed gunmen inspecting buildings by the track after what the narrator describes as the "liberation" of the station.
Another video showed black smoke billowing above concrete buildings, the result of what activists said was an air strike by Assad's air force near the railway terminal.
Syrian media did not comment on the fighting around Qadam and restrictions on independent media make it difficult to verify reports from activists.
The Syrian Observatory for Human Rights, a British-based opposition group which monitors the violence in Syria, said jets and army artillery also struck targets in rebel strongholds to the east and south of the capital after fierce clashes there.
Amos, visiting Damascus ahead of Wednesday's U.N. pledging conference in Kuwait for Syria's humanitarian crisis, did not speak to reporters before heading for talks at the Syrian Foreign Ministry.
On Wednesday, Amos said Syrians were "paying a terrible price" for the failure of world powers to resolve the conflict, pointing to 650,000 refugees who have fled the country and the millions affected inside Syria.
"Four million people need help, two million are internally displaced and 400,000 out of 500,000 Palestinian refugees have been affected," she told an economic forum in Switzerland.
The United Nations and aid groups inside Syria, including the Syrian Arab Red Crescent, could not keep pace with the rising number of people in need, she said.
"We must find ways to reach more people, especially in the areas we are still unable to get to, and where there is ongoing fighting," she said.
Last month the United Nations withdrew 25 of its 100 foreign aid workers from Syria as fighting intensified around Damascus, but Amos said the organization remained committed to maintaining aid operations.
Most of the money from the Kuwait pledging conference will go to support neighboring countries hosting hundreds of thousands of refugees, while $519 million is earmarked for aid inside Syria.
Reuters