Protests against the detention of George Abdallah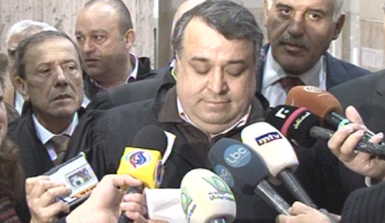 The Beirut Bar Association held a protest on Friday to demand the release of Lebanese detainee in French prisons, George Ibrahim Abdallah.
The lawyers criticized the French government and its judiciary, stating that the way they are dealing with Abdallah's case is not in conformity with either the French or International laws, nor with the Declaration of Human Rights.
Abdallah has been in prison for over 28 years, even though French law limits the maximum sentence of any prisoner to 18.
He was accused of engaging in commando operations carried out by the Lebanese Armed Revolutionary Factions; the court was not able to present concrete evidence against him in this regard so far.
The 60-year-old Abdallah was arrested in 1984 and sentenced to life in prison, three years later, for his alleged involvement in the 1982 murders of U.S. military attache Charles Robert Ray and Israeli diplomat Yacov Barsimantov.
Yves Bonnet, former director of France's Central Headquarters for Surveillance of the Territory and founder of the International Centre for Research and Studies on Terrorism, contributed to the hunt that led to Abdallah's arrest in Lyon in 1984. Despite that, he declares himself in favour of the prisoner's release. "This injustice has lasted long enough," he recently told FRANCE 24.
"It's gone beyond the limits of what's reasonable, and at this point nothing justifies his imprisonment. We should put him on a plane and send him back to Lebanon, where the authorities are willing to receive him."
On January 10, 2013, Abdallah was granted parole on appeal by the chamber of sentences application of Paris, conditioned to an order of deportation from France. Abdallah's lawyer said that his client hopes to return to Lebanon and take up a teaching job.
LBC