Hamadeh denounces Al-Akhbar threats against his life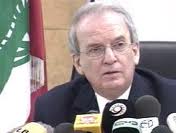 March 14 MP Marwan Hamadeh denounced on Monday the threats against his life by the Al-Akhbar , a pro Hezbollah led March 8 alliance newspaper .
Hamadeh's remarks come after Ibrahim al-Amin the editor-in-chief of the Al-Akhbar commented in his editorial column published earlier in the day "your [Hamadeh's] days are numbered".
Amin was responding in his article to Hamadeh's accusations against Al-Akhbar of breaching the confidentiality of the trial of the killers of former Prime Minister Rafik by publishing the names and photos of witnesses.
The Special Tribunal for Lebanon (STL) is set to try starting in March the killers of former PM Hariri who was assassinated in a car bomb attack near Beirut's Downtown in 2005. Four Hezbollah members were indicted in the assassination, but Hezbollah has strongly denied the charges and refused to cooperate with the tribunal.
Media Against Violence also condemned the newspaper for releasing information on tribunal witnesses.
"The information published by the newspaper is aimed at distorting the work of the STL and scaring the witnesses as well as the judges… in a clear attempt to mislead public opinion and to hide the evidence of the organized political crime," the statement said.
It also called on security and judicial institutions to "put an end to this instigative approach."
Al-Akhbar on January 15 published a list of 17 men it says are witnesses expected to testify before the tribunal.
STL spokesperson Martin Youssef responded to the leak, saying the court "condemns any attempt to intimidate and compromise the identities of any individuals, which may impact the safety and security of Lebanese citizens and undermine the administration of justice."
Now