Russia denies Assad living on its warship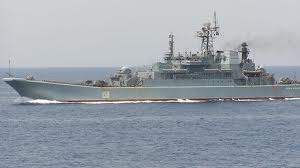 Russian foreign ministry denied a report claiming Syrian President Assad was living on a Russian warship.
Earlier, Saudi newspaper Al-Watan reported that the Syrian strongman and his family are living on a Russian warship stationed in the Mediterranean. The paper claimed a special chopper flew Assad to Damascus for consultations, which they said amounted to a virtual political asylum.
"The ministry doesn't comment on gossips and rumours published in papers," a foreign ministry source told the Voice of Russia.
Watan's report
According to the Saudi newspaper Al-Watan report, the family and Assad's aides live on the ship, which is floating in the Mediterranean Sea, and Assad travels to Syria by helicopter to attend official meetings and receptions.
When he flies to Syria, he lands at secret locations and is transported to the presidential palace under heavy guard, the sources said.
Assad's presence on the warship suggests he has been granted political asylum by Russia according to the paper
Voice of Russia/ agencies