Syrian envoy slams the protests that targeted him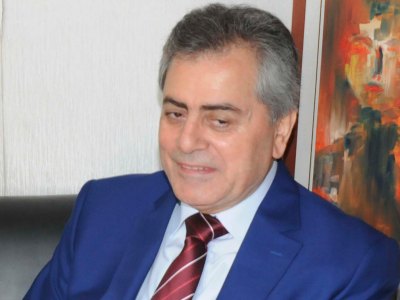 Syrian Ambassador to Lebanon Ali Abdel Karim Ali blasted the student protest in Baabda which called for his expulsion and said they were meant to provoke the Lebanese authorities.
"[The protesters' slogans] were meant to provoke Lebanese authorities," Ali told NBN channel on Monday.
The Phalange Party and National Liberal Party students proclaimed during their protest on Saturday that the Syrian Ambassador to Lebanon is a "persona non grata," demanding that the diplomat should immediately stop his interference in the Lebanese local affairs.
"If Foreign Minister (Adnan Mansour) won't put an end to your interference we will, you are (declared) as a persona non grata," Simon Dergham, head of the students organization in the National Liberal Party said.
He lashed out at the Syrian ambassador, saying: "insulting our institutions and President (Michel Suleiman) is not acceptable."
The demonstrators chanted slogans against the ambassador, describing him as "ambassador of hatred, criminality, humiliation and dependency."
"The Syrian hegemony has ended and we refuse to go back," the protesters said.
The protesters held banners condemning the Syrian regime and demanding the expulsion of the Syrian ambassador amid heavy army troops and riot police deployment near the Syrian embassy in Yarze.
Ali has been accused of overstepping diplomatic bounds when, on December 12, the Syrian Embassy sent a letter to Lebanon's Foreign Affairs Minister Adnan Mansour complaining that the involvement of the Social Affairs Ministry in the distribution of aid to Syrian refugees was based on "political incentives" that "hinder humanitarian efforts."