Abdallah's Lebanese hometown prepares to welcome him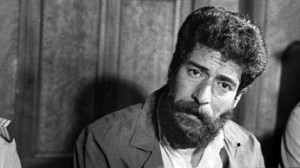 Next week, the town of Qobayyat in Akkar will be welcoming the freed prisoner George Ibrahim Abdallah after being held for three decades in France.
Celebrations are being prepared at Beirut International Airport and all the way to his house in Qobayyat, where his family awaits the return of the "struggler prisoner".
George's sister Amal Abdallah said that "it is true that they are very happy about his homecoming, but many wounds remain as her mother died of sorrow for being unable to see her son."
Despite the fact that Abdallah completed the minimum term of his sentence in 1999, he remains behind bars in France
He was sentenced to life in prison in 1987 for killing two US and Israeli officials.
On December 22, several dozen protesters gathered in front of the Ministry of Justice in Paris to call for freeing Abdallah, former leader of the Marxist-Leninist guerrilla group Lebanese Armed Revolutionary Factions. The 60-year-old Abdallah has been imprisoned in southwestern France since 1984.
Yves Bonnet, former director of France's Central Headquarters for Surveillance of the Territory and founder of the International Centre for Research and Studies on Terrorism, contributed to the hunt that led to Abdallah's arrest in Lyon in 1984. Despite that, he declares himself in favour of the prisoner's release. "This injustice has lasted long enough," he recently told FRANCE 24.
"It's gone beyond the limits of what's reasonable, and at this point nothing justifies his imprisonment. We should put him on a plane and send him back to Lebanon, where the authorities are willing to receive him."
On January 10, 2013, Abdallah was granted parole on appeal by the chamber of sentences application of Paris, conditioned to an order of deportation from France. Abdallah's lawyer said that his client hopes to return to Lebanon and take up a teaching job.